How to choose this product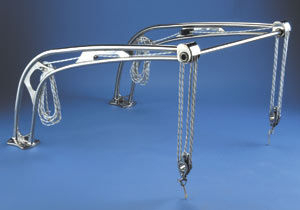 A boat davit is a lifting and launching system for heavy on-board gear. Those featured on NauticExpo are intended for use on leisure craft rather than commercial ships.
Applications
These devices are primarily used to store and launch dinghies on recreational power- or sailboats. The davits on large yachts are often motorized and equipped with a remote control. They handle tenders, jet skis, sailing dinghies, submarines and other gear.
Technologies
Manual davits use block and tackle for relatively light loads. Hydraulic and electric versions are used for heavier gear such as the rigid tender of a yacht. Configurations include articulated, telescopic, folding, removable and other models.
How to choose
Choice will depend on the total weight of the tender and other gear to be lifted. Consider available installation space, and verify that the weight of the davit and its load will not destabilize the vessel.