The Online Boating and Maritime Exhibition
Length: 11 m
Dazcats latest design, due to begin production in 2017, is a new performance tiller-steering design. This replaces our D995 and design features include her super light weight with taller rig for increased speed, kick-up rudders for beaching, ...
See the other products
Dazcat Catamarans
Length: 13.9 m
A new F-45 cruising catamaran design is now available, being a further development of the F-44, but it became a brand new design, with completely revised lines and many other improvements. The F-44 was in turn based on the F-41 which ...
sailing catamaran
SLYDER 49
Length: 15 m
The SLYDER 49 is a very sporting, modern cruising catamaran with an excellent ambience.pecial features:Two helm stations aft on the hulls. From here the sailor has the clear view forward and towards the sails. The aft two helm stations ...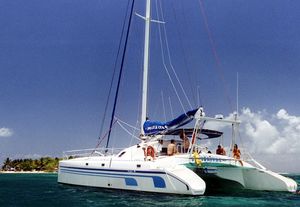 sailing catamaran
FREYDIS 46'
Length: 14 m
Main specifications - Length overall 13.99 m - Length at water line 13.99 m - Width 7.80 m - Draft 1.10 m - Weight on cruising conditions 7.5 à 8 Tons - Free board height 1.60 m - Height under deck beam 1.95 m - Height in hulls 2.00 m
See the other products
Tournier Marine
Length: 11.6 m
Length Overall 11.6 m / 38 4 Ft Length Waterline 10.9 m / 35 ' 8" Beam 7.3 m / 23 Ft Draft 0.95 m / 3 Ft Mast Height 17.1 m / 56 Ft Mast Height Above Waterline 18.5 m / 60 ' 8" Displacement 6800 kg / 15000 lbs Fuel Capacity 380 l / 100 ...
See the other products
Celtic Yachts
Length: 6,800 cm
The Concept More than ever we are in the thought Born To Be a Wave, a concept who wish marries men, the sea and a ship. Sea Voyager 223 is the evolution of the base of our concept, which is to the trend ultimate boat size, a point confi ...
See the other products
SEA-VOYAGER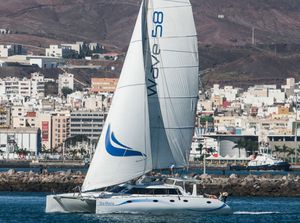 catamaran
WAVE58 STA. MARIA
Length: 17.6 m
STA MARIA is a luxurious catamaran, 58 feet long, designed and made in Poland by Wave Catamarans. It's an award winning yacht - the best sailing yacht of 2011 at the biggest yacht fair in Poland "Wind and Water". Designer: Lodyga, Szwed ...
Length: 18.6 m
The ICECAT 61 develops from the cooperation between ICE YACHTS and the yacht designer and engineer Enrico Contreas, father of the legendary catamarans Mattia and one of the most experienced designers of catamarans. Together Ice Yachts ...
Length: 29 m
Catamaran yacht Architect : Coste design Composite building Lenght : 29 meters (95 feet) Width : 12 meters Draught : 2 meters
sailing catamaran
Scape 40′ Adventurer Day Charter
Length: 40'00"
Introducing our new Scape 40' Adventurer High performance catamaran. This indoor/outdoor themed boat is made for people who enjoy fast, fun and functional catamarans. The Scape 40' Adventurer is not for marina living it is for adventure ...
See the other products
Scape Yachts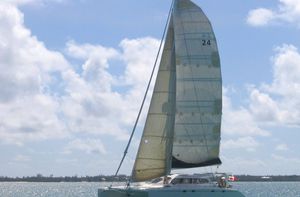 sailing catamaran
C CAT40
Length: 12.2 m
Open C CAT40 is the Open C Yachts version of Fusion 40. Fast catamaran with real sailing sensations and excellent seaworthines. More than 75 units sailing worldwide. Infusion construction. Acccommodations designed by Open C Yachts. Very ...
See the other products
Open C Yachts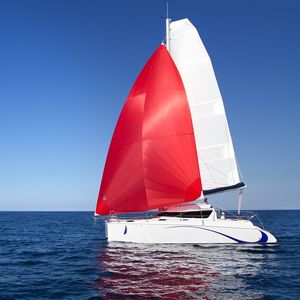 sailing catamaran
LH 33 Comfort
Length: 10 m
The LH 33 is the ideal catamaran if you are looking for a sizable boat with excellent agility, without sacrificing comfort and style. Safe and seaworthy Although it is one of the smaller cabin catamarans on the market the LH 33 can ...
Length: 13.4 m
A hybrid, fast and modular sailing catamaran The VCAT44 from vcatamaran is not only another fast cruising catamaran. The VCAT 44 is a boat that distinguishes from most of the markets choices. The VCAT 44 will not only be fast, but ...
Length: 50 m
The world of superyacht sailing is rapidly changing. Over recent years superyachts have grown dramatically in size and improved performance. This is mainly due to stronger and lighter construction materials coupled together with evolution ...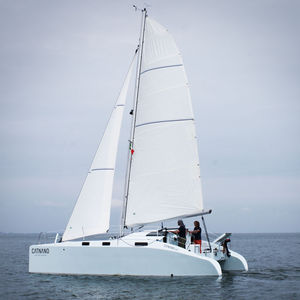 Length: 9.2 m
LOA: 9,15 m Draft: 0,7 m Beam: 5,60 m Light displacment: 3,4 to Interior Maple and walnut 2 Cabins Beds 140 x 200 cm, 2 bathrooms, electric toilet, fresh water 2 x 75 l, gasoil 2 x 33 l, hot water 15 l Navigation Simrad Intruments, ...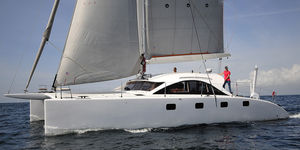 sailing catamaran
CLASS 4
Length: 14 m
If you're looking for a Secure, Fast but Spacious catamaran under 50ft, Class 4 is a wonderful platform fast and easy-to-sail (short handed). You achieve over 250miles per day in comfort. Demo catamaran is for SALE or rent at very competitive ...
See the other products
O-Yachts
sailing catamaran
MAVERICK 400
Length: 12.2 m
We believe that when people sail around the world it is mostly about living aboard a yacht, and the yacht is your home and we want to make this home as pleasant and comfortable as possible. ​ We created a yacht that is the ...
See the other products
Maverick Yachts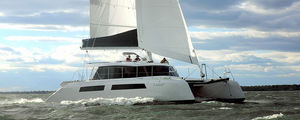 sailing catamaran
ALPHA 42
Length: 12.7 m
The ALPHA 42 catamaran is a beautifully designed, brand new cruising catamaran featuring highly innovative features. The Alpha 42 cruising catamaran is unlike any other production multihull on the market. It is a true dual purpose ...
sailing catamaran
FASTCAT/GREENCAT 445 World cruiser
Length: 13.4 m
Manufactured with the epoxy resin infusion process, this cat represents a price-luxury-performance breakthrough long awaited by catamaran enthusiasts. At the helm of this sleek Lavranos design you will be amazed at the ease with which ...
See the other products
African Cats

sailing catamaran
Grainger 45
Length: 13.7 m
Style and Features Barefoot is stylish, distinctive, and very contemporary. The Barefoot encompasses all the features that combine to make it a great sailing boat, and a comfortable and practical live aboard crusier. Open, airy and spacious ...
See the other products
Pedigree Cats
sailing catamaran
Vahine Piti
Length: 17 m
LOMOcean Design were commissioned by the owner of this 17m offshore sailing catamaran to evaluate and engineer remedial hull additions and structural modifications after she was found to significantly exceed the original designer's weight ...
See the other products
LOMOcean Design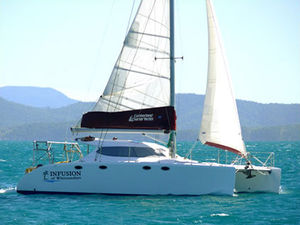 sailing catamaran
FUSION 40
Length: 12.2 m
Fusion Catamarans produce the easily driven Fusion 40 in either a Power Boat or Sail Boat configuration. The Fusion Sailing Catamaran is designed to satisfy the Charter industry requirements, yet provide a highly economical vessel for ...
See the other products
Coastal Boats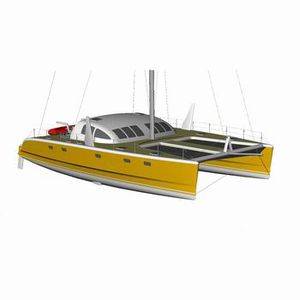 sailing catamaran
ST-15000 Sun Dream
Length: 15.2 m
50-ft-SUNDR ST-15000 Sun Dream SunDream 50 it is high-speed and very dynamical catamaran which is intended for exacting and skilled yachtsmens, wishing to move with speeds 20 + knts. The case sandwitch designs on basis PVC of polyfoams ...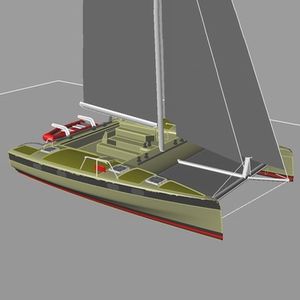 Length: 12.2 m
Large cockpit, which is designed for 10 passengers and two crew members, two cabins for a relaxing break, two toilets, shower and galley. LOD 12,21 m Beam 9,9 m Draft 0,55/2,4 m Displ light 3400 kg Displ loaded 5600 kg Engines 2dsl x ...
sailing catamaran
OVNICAT 48
Length: 14.5 m
Architect : MORTAIN & MAVRIKIOS Overall lenght : 14,50 m Maximum beam : 7,75 m Draught : 1,35 m Lost motion : 13 500 kg Sail area near : 127 m2 Mainsail : 84,5 m2 Genoese : 54,5 m2 Approval C.E. category : A Engines : 2 x 50 cv Sail Drive
Length: 61.2 m
We were commissioned, through an old friend and yacht broker, Bob Rodgers of Rodgers Yacht Sales in Noank, CT, to build a 60' Morrelli & Melvin of Huntington Beach, CA.The cat has been set up for family cruising, but she is also awesomely ...