The Online Boating and Maritime Exhibition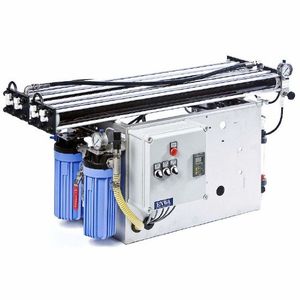 ship watermaker
MT 1500-6000
Watermaker produces drinking water from sea water based upon the reverse osmosis membrane technique. The capacities are 1500, 2300, 1800, 3200, 4500, 5500 or 6000 l/24h from seawater (25o C). The quality of the ...
See the other products
ENWA Sandnes
ship watermaker
2-30 m³/24hr
... 5ppm of TDS, using waste heat from the main engine or auxiliary engine jacket cooling water. Promac offers evaporator-type watermakers but also budget-line Reverse Osmosis machines and tailor made systems. Capacity: 2-30 m³/24hr.
ship watermaker
PLATE TYPE
Fresh Water Generator is used to desalinate seawater for the ships. There are two types fresh water generator, R/O type and Low-pressure vapor type. Low-pressure vapor type is most widely used in commercial ships because it utilizes wasted ...
boat watermaker
SEAFARI VERSATILE
The new Seafari Self Contained Versatile watermaker features a new remote mount cube design that allows easy installation and access. As always the Seafari is capable of producing 1800 gallons (6800 liters) per day, perfect ...
See the other products
HRO systems
boat watermaker
DB Panel Series
... valves and fittings Non-corrosive nylock low-pressure fittings and color-coded nylon tubing Included with every DB Series Watermaker Manual freshwater flush package Pre-Filter (Feeder) Pump (1) 5 Micron Pleated Pre-Filter ...
yacht watermaker
DML SERIES
With the release of the new 12 / 24 Volt Watermaker 200-DML-1, ECHOTec achieved a breakthrough in efficiency for watermakers, utilizing ultra-reliable triplex ceramic plunger pumps. The ECHOTec. pump ...
See the other products
Echo Marine
boat watermaker
MINIMAR PLUS
... allows the simple control of all functions. One-touch operation. The watermaker can also work in manual mode. Possibility to start the automatic membranes flushing cycle when the watermaker stops (optional). ...
See the other products
Tecnicomar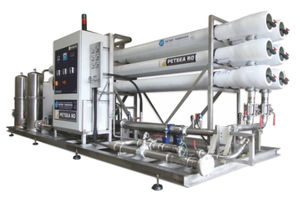 ship watermaker
PETSEA RO
Characteristics Highly reliable systems. Manufactured in a stainless steel skid for a longlife. Compact systems and easy maintenance. Increasable water production systems. All the units include feeding pump, sand ...
See the other products
Peter Taboada