The Online Boating and Maritime Exhibition
outboard small boat
HDPE SUPPORT BOAT 5.50
Length: 5.5 m
THE MOST PRACTICAL AND ECONOMIC SMALL TENDER The HDPE Support Boat 5.50 is one of our well proven HDPE designs, that we build in various console versions. For 2017, a new open plan version is added ...
Length: 8 m
... well-running wooden boats for fishing and leisure. Ideal for strong aquawatt phase current outboard motors, they combine traditional lines with modern construction. DENSITY AND LIGHT WOOD BOATS The ...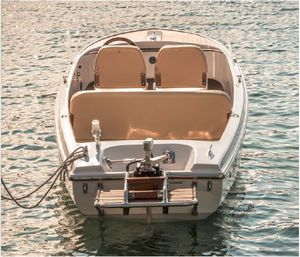 classic open boat
Pehn eVARIO 530
Length: 5.3 m
Standard Equpipment Handmade from glass-fiber composite Seating in front and sundeck in the back Leatherette 4 colors (beige, white, red or blue) Wind-shield Metal fittings & inox fender strip Steering & dashboard Full automatic bilge ...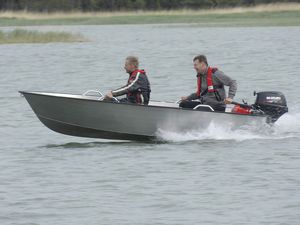 outboard small boat
AC-12
Length: 3.9 m
The AC series are the entry range of the Alunaut brand. The series are based on rugged, proven and seaworthy hulls and are aimed at the proffesional user as well as the private market. Common to the series are a fully welded construction ...
See the other products
Alunaut OÜ
Length: 3.9 m
The favorite dinghy for the professional inland navigation, robust, practical and in the possession of the SI by the DCI approved certificate. Can be used for many purposes, as recreation and fishing boat, ...
See the other products
Tinn-Silver
outboard small boat
Ruff 380
Length: 3.8 m
Lenght...........................3.80 m Displacement..........500 kilos Beam.............................1.60 m Passengers.........4 pers Freeboard.....................0.45 m Weight......115 kilos Draft..............................0.15 ...

See the other products
MOTOCRAFT BOATS SRL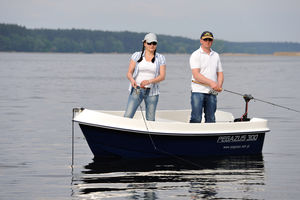 outboard open boat
PEGAZUS 300
Length: 3.14 m
Project category: D Hull length -3,14m Hull width 1,43m Max motor speed -5kM Weight of empty unit -70kg Crew: 2-people
See the other products
Przedsiebiorstwo Uslug Specjalistycznych ''PEGAZUS''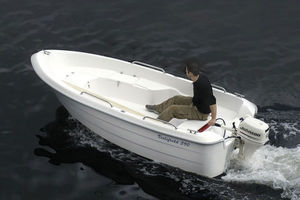 Length: 3.8 m
an open cabin boat for four persons. It is ideal suited for fishing, touring and recreational use. It's made ​​for use on inland and coastal marine waters.
See the other products
Mazury Sp. z o.o.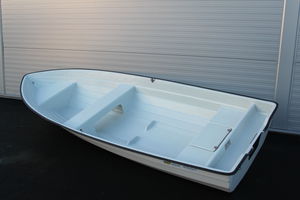 outboard small boat
Kasse 455 R
Length: 4.55 m
See the other products
Lindvart OÜ
outboard small boat
10' UTILITY TENDER
Length: 3.05 m
... scratches. The hull, transom and lifting eyes are welded marine grade aluminum making this a extremely durable and tough utility boat. Learn more about the Davit Systems you get with Bullfrog Boat ...
See the other products
Bullfrog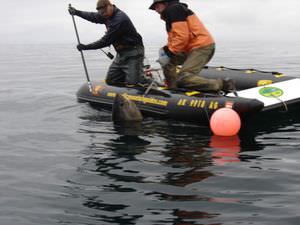 catamaran small boat
UD-400
Length: 4.11 m
... -400, the Perfect boat for Fishing and Hunting? The Dux Inflatable boat, is a Catamaran designed inflatable with more floor space, and maximum Stability. Designed to ...
See the other products
True North Dux
outboard small boat
16'5″ Melonseed
Length: 16'06"
For several years we have been receiving requests for a boat that rows as well as our 14′ Whitehall and is just as attractive, but that has more capacity and is still blazingly fast. People have also requested the ability ...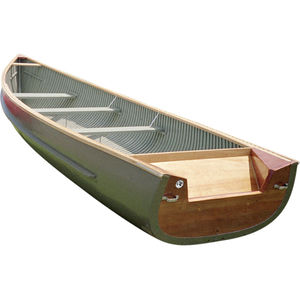 outboard small boat
Chisasibi 26
Length: 7.92 m
Length: 26 feet Beam: 84 inches Depth: 36 inchws Weight: 800 pounds Capacity: 6500 pounds Recommended motor: 50 to 100HP
outboard small boat
Magnum 16
Length: 4.88 m
The Magnum 16 is a 16 foot launch style boat. This boat is tailor made for each order. We make a few different spec models for standard uses, these include: Leisure use Model, Fishing Model, Rescue ...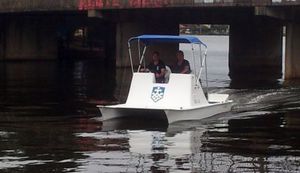 Length: 5 m
... build the official Umpire and Filming catamarans for use at the 2000 Olympic Games. These boats are of glass fibre construction, low wash and fuel-efficient, These boats are designed to create minimal ...
outboard small boat
18 ADVANTAGE TILLER
Length: 5.49 m
... see one running. Duckworth's style, performance and construction are legendary and fully evident in the new 18' Advantage Outboard Tiller. Perfect for all angling techniques: side drifting, on anchor, backtrolling, trolling ...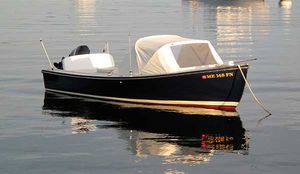 Length: 6.15 m
... still being built by Ellis Boat Company today under the leadership of Don Ellis, Ralph's son. Ralph's timeless Ellis 20 design has proven to be fast, fuel-efficient, and seaworthy. Reaching top speeds of 30 mph with a ...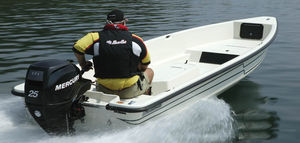 outboard small boat
PHELIX
Length: 5.19 m
... is perfect for those anglers desiring a fiberglass boat which is very affordable. Great for small lakes or covering the saltwater "backcountry" in search of Redflsh, and Snook. This "All Fiberglass' boat ...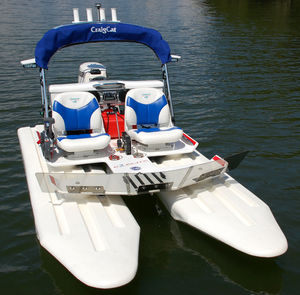 catamaran small boat
E2 ELITE
Length: 3.45 m
The king of the CraigCat® fleet, it's the top-of-the-line, high-performance model loaded with our most popular accessories. Perfect balance of precision aquatic handling and ergonomic comfort. Full of features and long on excitement! SPECIFICATIONS Length ...
See the other products
CraigCat
outboard small boat
1410 EXPLORER
Length: 4.3 m
... aluminium chambered boat for inshore fishing and diving and as a tender and general runabout. BOAT DETAILS Popular, with raised Wing Style Coamings, the 1410 Explorer is designed to be a safe, low ...
catamaran small boat
COACH LAUNCH
Length: 7.25 m
Designed for optional operation with one or four passengers, but in rescue conditions can easily hold an 8+ crew. the launch is designed for 9.9 HP motor; however, up to 15 HP motor can be used. This launch is very maneuverable; with ...
outboard small boat
Candlefish 13
Length: 4.1 m
... be carried upside down on the truck rack Gregor Boats H 42 model is an aluminum boat that Tom likes (good research) Coming down on June 30th to visit... Likes idea of cargo hatch in middle of the ...
See the other products
Devlin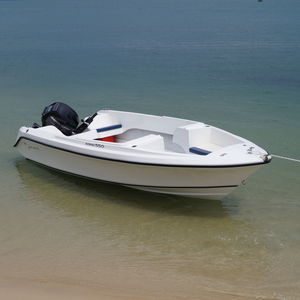 outboard small boat
Adingi 550
Length: 5.5 m
New Seanymph Adingi 550 Boat only NO trailer or NO motor LOA: 5.5m Beam: 2.3m Deadrise: 22 degrees Transom: 20" Seating: 4 people Special features: S/S Bow sprit S/S Bollard S/S Tow ring Anchor ...