The Online Boating and Maritime Exhibition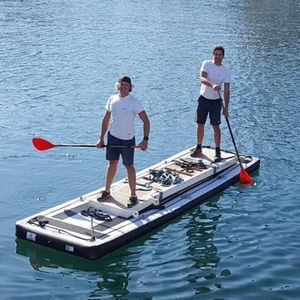 Construction of private swimming dock or a mooring pier for small boats can be done based on our floats. We can supply turnkey swimming docks of different dimensions.
See the other products
UHP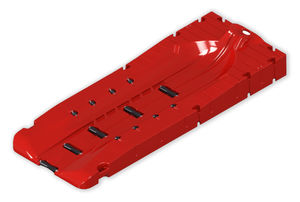 jet ski extension platform
... easily load or unload from the jetport with the help of 12 pcs roller (cylindrical rubber wheel). Features Sandblasted surface preventing slip, Convenient and comfortable system to drain the water that accumulates ...
boat platform
CBC I-Dock #408
Drop Stitch Technique Ensures that the Stand Up Paddleboard dock can be inflated to high pressures to make it sturdy enough to stand on when loading and unloading you SUP! Can also be used for just hanging out on in the ocean, harbor, ...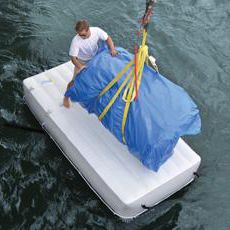 FunAir commercial grade inflatable yacht Fenders and Work Platforms help protect your yacht and make working on the water easier for the crew. Customize colors and logos to ensure your inflatable yacht toys look as good ...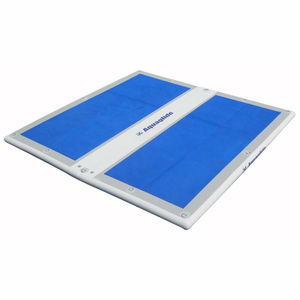 recreation center platform
Ocean 15355 4x4
NEW- Aquaglide inflatable utility dock platform, Created as a multipurpose platform to enlarge your yacht -Very stable swimming waterlounge platform for up to 10 people -Attachments ...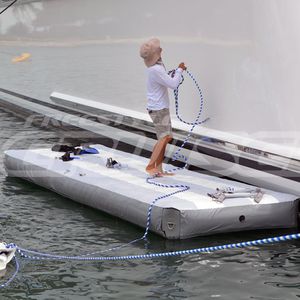 Our inflatable work/play dock is a versatile floating platform that can support thousands of pounds for a variety of uses. The docks are made with 100% welded seams using Drop Stitch or 28 oz. Firmatex ...
Blue Isles™ Media helps connect aquatic sporting events and viewers in real time no matter where the audience is located. Event viewers can now link to Blue Isles™ Media channel in YouTube to access and view both live and recorded aquatic ...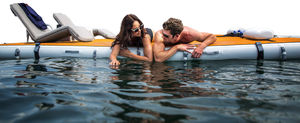 ... space for three adults sunbathing or two deckhands carrying out a wash down. It also makes a perfect addition to a larger platform to form a jet-ski dock. Packing down to a conveniently stowable size.
See the other products
NautiBuoy Marine Ltd
special event platform
RESCUE
... Rescue Bridge is a robust and stable platform for use on water, wetlands, ice and other unstable surfaces. Primarily designed for use in emergency and first response rescue operations, the bridge provides a safe platform ...
marina platform
Custom Designs
AccuDock has worked with customers to create a design for their floating platform that will fit with the exact application and needs they are looking for. All custom designed Floating ...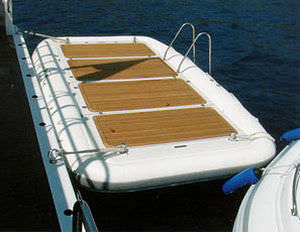 ... as an inflatable and collapsible bathing platform for luxury yachts. Our flotation collars, bouyancy bags and flotation bags are suitable for many marine uses such as pontoons, landings, rafts or bathing platforms.
We propose an inflatable work platform with a non-skid floor. Perfect to do maintenance work on the hull.Size: 3 x 2 m
photovoltaic solar farm platform
... A waterfront property owner with no boats and is seeking a dock for fishing, swimming or lounging purposes may opt for a Platform configuration. Alternatively, if one's expectations are to own one or two boats, a traditional ...
... the utilization of floating solutions that, moreover, simplify bureaucratic procedures for concessions and allow to vary their positioning in compliance with enlargements or new needs of lay out. Ingemar designs floating ...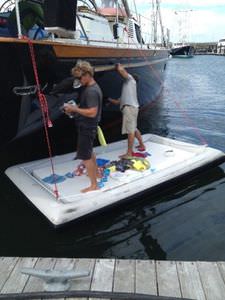 The AERÉ inflatable work platform is the newest addition to the AERÉ inflatable line of products. Measuring 6 feet by 10 feet on the outside and 4 feet by 8 feet on the non-skid floor. Great for any work usage that can ...
This inflatable floor transforms the natural pool that receives the PWC into a livable space increased by almost 4 Sq meters. That's a new convenient and comfortable living area that perfectly completes your Wave Boat for its recreational ...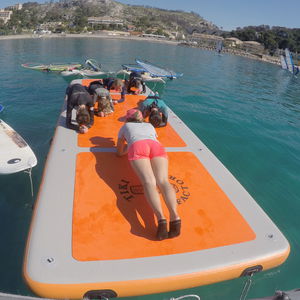 Inflatable platform for school sailing, jet ski center, yachting activities
Inflatable platform for leisure and swim - easyer to inflate in 3 minutes - for 1 to 4 person
Inflatable platform size 400x200x20 cm - possible platform only or platform with 3 windows -
The APW Work Platform is made from stable modules with high loading capacity. blue-line-headers-4px Load capacity dimensions calculated according to customer needs. The modular construction/solution allows for easy ...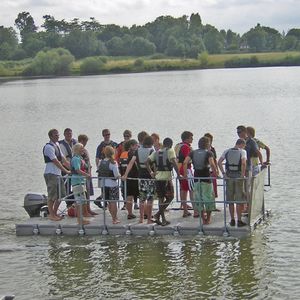 ... VersaDock raft can be used for a number of other uses and can be quickly and easily Rafts can be reconfigured to provide other platform uses or alternative raft requirements Direct benefits: Gain access across any ...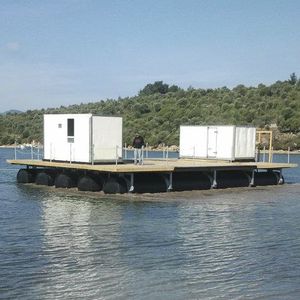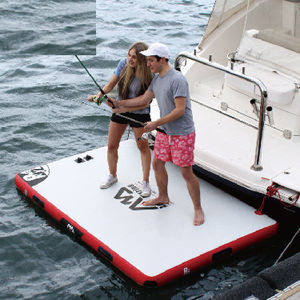 Inflatable air platformMakes a perfect island for swimming, playing, working or just relaxing. Ideal as a lounge, swim raft or launch pad for any water sports. Designed with heavy duty stainless fittings and convenient interlock straps ...
Site specific designs as per client's unique requirements and applications. Construction to blend with upland architecture.