The Online Boating and Maritime Exhibition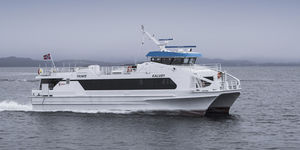 catamaran passenger ship
M/S "Kalvøy"
Length: 26 m
Passenger capacity: 147 unit
Type: Aluminium passenger catamaran Length o.a.: 26,0 meters Beam o.a.: 9,0 meters Tonnage: 200 GRT Service speed: 26 knots Passengers: 147
See the other products
Oma Baatbyggeri AS
catamaran passenger ship
40m
Length: 40 m
Passenger capacity: 400 unit
High speed passenger vessels, ranging from 25m-40m of length. Based on a set of hull sizes on which the arrangement can be tailored to meet the needs of the customer.
See the other products
Brødrene AA as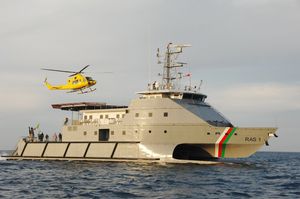 high-speed passenger ferry
WPCAT 52R
Length: 52 m
DWT: 57,000 kg
Passenger capacity: 200 unit
... a high-speed wave-piercing aluminium catamaran. It has been conceived as a multipurpose vessel, specifically designed and built for rescue and surveillance operations, and as such is equipped for dealing with ship ...
See the other products
Rodriquez
crew transfer offshore support vessel
NxS28
Length: 28.49 m
Passenger capacity: 12 unit
LOA 28,490 Meters Beam 9.960 Meters Draft 1,900 Meters Power 2 x 1529 HP (1140 KW) MTU diesel 12V4000 Generators 2 x GE 35 KW ONAN 35QD Propulsion 2 propeller 5 blades Class S et 2 bow trusters 60 KW Fuel Capacity 2 x 6.000 ...
See the other products
Navalu
catamaran passenger ferry
Length: 49.8 m
Passenger capacity: 600 unit
LOA: 49.80m Waterline length: 46.20m LBP: 44.60m Wide: 10.20m Depth: 3.80m Draft: 1.90m Crew: 10 people Leading indicator: Loading capacity: 600 people Speed: 12.0kn ...
high-speed passenger ferry
73 M
Length: 71.6 m
Passenger capacity: 250 unit
This catamaran ferry was designed by Nigel Gee Associates for Derecktor's bid on the Alaska Marine Highway System Project. It is designed to be a safe, high-speed RO/RO passenger ferry that minimizes ...
See the other products
Derecktor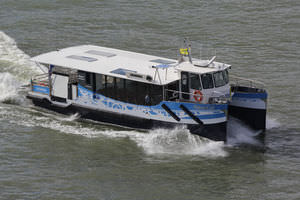 catamaran passenger ferry
AQUACAT
Passenger catamaran Architect : Coste design / H2X Composite building Capacity : 62 personnes Lenght : 17,3 meters Width : 6 meters Draught : 0,95 meters Max speed : 20 knots
catamaran passenger ferry
24 - 32M
Length: 32 m
... fiberglass model is buîlt in an adjustable mould which allows catamarans from 24 to 32m to be produced. At 32m, up to 430 passengers can be accommodated on two levels. Efficient and comfortable this catamaran ...
See the other products
Cheoy Lee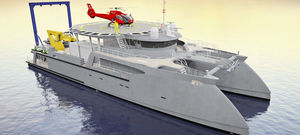 yacht support vessels special vessel
Atlas
Length: 44 m
... positioning etc. The catamaran format lends itself to some innovations in tender handling, including a large transom elevator platform, removing the dangers associated with a large daughter vessel swinging ...
See the other products
LOMOcean Design
Length: 25 m - 30 m
Passenger capacity: 150 unit - 500 unit
... aluminium passenger catamarans are between 15 and 30 m long, with the capacity to transport 150, 250 and up to 500 passengers. They are commonly used for short- and mid-length routes for passenger transport, as well as ...
catamaran passenger ferry
Luanda
Length: 36.2 m
Catamaran Ferry Year: 2015 - Shipowner: Mº Transportes de Angola - Country: Angola LOA: 36,20 m - Beam: 9,50 m
See the other products
Armon Shipyards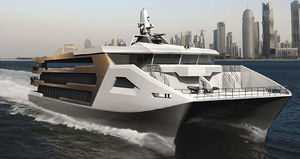 catamaran passenger ferry
200 CF
Length: 61.3 m
Passenger capacity: 640 unit
- Luxurious, comfortable and functional VIP catamaran ferry designed and arranged VIP events to take place in coastal areas for dinner organizations, special events, weddings and special meetings - Catamaran ...
See the other products
ARES Shipyard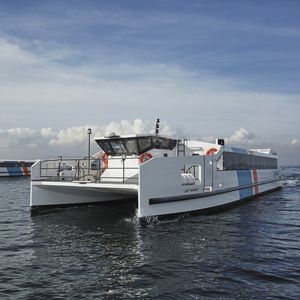 catamaran passenger ferry
27M FERRY
Length: 27 m
Passenger capacity: 204 unit
... passenger transportation vessel and has a capacity of 200 and 140 people to cater for mixed class and business class carriage respectively for both inland waters and open seas.. Although featuring an aluminium hull structure, ...
See the other products
Nautic Africa