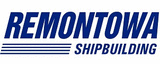 Booth:
Remontowa
LNG carrier cargo ship

7500 CBM
Remontowa
Characteristics
Description
Remontowa SA delivered its first gas carrier in April 2009. This super-versatile, environmental friendly and technically sophisticated gas carrier has been ordered from Remontowa SA by Dutch operator, Rotterdam-based Anthony Veder Rederijzaken BV and built at REMONTOWA Group's Northern Shipyard (Stocznia Polnocna SA). Anthony Veder was originally asked to build a small LNG carrier on behalf of Norwegian LNG distributor Gasnor in 2006. The diesel/gas-electric driven, multipurpose gas carrier, of the 1889 type (design) and B 604/1 yard number, launched on May 7, 2008, is a unique vessel - one of the first such units worldwide, and the first one built at any European shipyard.

The vessel is unusual in being designed to carry a variety of gas cargoes: liquefied natural gas (LNG), liquefied petroleum gases (LPG) or ethylene. The LNG will be transported at minus 163 degrees centigrade and the vessel is very environmentally-friendly because it will use the LNG as fuel, significantly decreasing emissions. When not engaged in regional distribution of LNG, for which it has been specifically designed, the new ship from Remontowa can be used to transport other gases such as liquefied petroleum gas (LPG) and petrochemical gases, including ethylene. On completion the latest newbuilding from Remontowa goes on long term charter to Gasnor, carrying gas along the coast of Norway.
Other Remontowa products