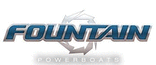 Booth:

Fountain Powerboats
Group: Fountain Powerboats

Sport-fishing motor-boat : open express-cruiser
38 SFC I/O - 11,58m 38' 0"
Fountain Powerboats
Back at the dock, relaxing in the plush cabin you re-live the day—the fast, comfortable trip out to the GPS marks where experience tells you the Big Ones lurk; the adrenalin-pumping scream of the reel; the unbeatable thrill when the fish comes to gaff. And then the trip home, running ahead of the storm while the rest of the fleet struggles behind you.

First there. First home. Trophy fish in the box. You deserve this.

If there could be one solution for every boating situation, you're in it: the Fountain 38 Sport Fish Cruiser. Powered by two MerCruiser 496 HOs and Bravo III stern drives this masterpiece of engineering and design has an explosive cruise of 44-plus-mph and a top of 62+mph. How many world-class fishing boats can make that claim?

Or, choose a pair of 320 Cummins diesels and cruise at 40mph—with a range of 572-plus miles—and a top of 52mph. All in the incomparable comfort and safety of Fountain's legendary stepped hull—now with improved step locations for an even smoother and more stable ride. And, Fountain has expanded the chine width, which not only adds lateral stability, it opens up the interior space.
Other Fountain Powerboats products
Motor boats with cabin
Open motor boats
Offshore powerboats, Jet-skis
Workboats