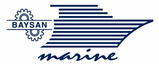 Booth:

Baysan Marine - Baysan Makina Disli San.Tic.Ltd.Şt
Group: Baysan Makina Disli San.Tic.Ltd.Şti
Flexible mechanical coupling / for boats / for shafts / anti-vibration

FLEXIBLE
Baysan Marine - Baysan Makina Disli San.Tic.Ltd.Şt
Characteristics
Type:

flexible

Application domain:

for boats

Applications:

for shafts
Other characteristics:

anti-vibration
Description
Reduce engine noise, vibration transmission and are designed to accept propeller thrust.

For engines 5 to 120 HP.

Reduces engine noise and vibration transmission.

Safety design.

Simple to periodically check alignment .

Fast installation time.

Requires no machining, accepts propeller thrust.

The couplings are made from a polyester elastomer which is not affected by salt water, diesel and lubrication fluids.

In the unlikely event of a disc failure, the steel straps make the coupling fail safe and ensure drive is maintained in both forward and reverse.
Other Baysan Marine - Baysan Makina Disli San.Tic.Ltd.Şt products