The Online Boating and Maritime Exhibition

sailing catamaran
BALI 4.1
Length: 40'07"
BALI 4.1 AN INCREDIBLE LIVING SPACE! Innovation : An integral aft platform joining the two hulls The Bali 4.1 offers new bench seating in the aft cockpit and large side lockers which can house a grill or scuba equipment. ...
See the other products
BALI CATAMARANS 

Length: 11.7 m
Like all the catamarans of our range, Excess 12 is for those who dream of a cruising catamaran that provides real sailing sensations. The view from the helm, the finesse of the sail trimming, the friendliness of the cockpit, the sliding ...
See the other products
EXCESS

sailing catamaran
MOJITO 73
Length: 23.9 m
The Mojito 73 is perfectly suited to the charter business. The accommodation on the Mojito is both practical and elegant With a length approaching 24 meters, large storage units, well adapted tanks, and 12 double cabins equipped with ...
See the other products
Alumarine Shipyard

Length: 12 m
New for 2018, Leopard Catamarans is excited to announce that we have made some enhancements to the successful Leopard 40. Now with over 110 units produced, the Leopard 40 was the first of the Leopard Range to embrace the innovative layout ...
See the other products
Leopard Catamarans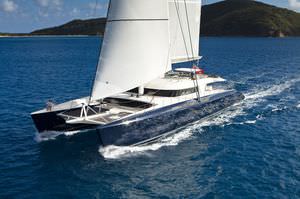 Length: 44.2 m
The sailing catamaran Hemisphere is one of Pendennis Shipyard's most unique and imposing launches in our 25 year history. As the largest privately owned vessel of her type in the world she turns heads due to her sheer scale, but equally ...

sailing catamaran
MC50cat
Length: 15.3 m
This range has been designed using a group of experienced owners and sailors (who between them have spent decades sailing and cruising multihulls), a highly experienced design and engineering team, and McConaghy's 50 years of building ...
See the other products
McConaghy

sailing catamaran
ALLURES C 47.9
Length: 14.6 m
Spécifications Length: 14.60 mGennaker : 115 m2 Maximum Beam: 7.35 mSpinnaker : 130 m2 Draft: 1.25 mOffshore category: personnes Displacement: 12 TOnshore category: personnes Air draft: mEngine: 2 x 40 CV Main sail: 68 m2Architect: ...

sailing catamaran
BAÑULS 53
Length: 16.1 m
Dimensions Length 16.15m (53ft) Mainsail 100m2 Beam 8.00m Solent 45m2 Draft 1.40/2.85m Staysail 30m2 Displacement (light) 7.50t Code 0 100m2 Displacement (max load) 9.9t Gennaker 135m2 Bridgedeck clearance ...
See the other products
MC² Catamarans

Length: 14 m
Based on his craftsmanship the Swisscat's team assists each client either on his own S48 customization. That is the reason why each of our boat is unique. - Launching: 2016 - Design : Bydgroup & SebSchmidt - Length : 14,0 m overall ...
See the other products
SWISSCAT YACHTS SA

sailing catamaran
Baroness-566
Length: 17.2 m
Living on board, a totally new experience. Baroness-566 represents a new generation of catamarans, different from others for its absolutely innovative characteristics. With the Baroness-566 catamaran motor yacht, life on the ocean waves ...
See the other products
Kaiserwerft

sailing catamaran
BANANA 43
Length: 13 m
Launched in 2013 the Banana 43 is the first catamaran constructed by Garcia Yachting. Specifications Length: 13 m Maximum Beam: 6.50 m Lwl : 11,70 m Draft: 1,2 m Displacement: 10,6 T Offshore category: 6/8 personnes Onshore category: ...
See the other products
Garcia Yachting

sailing catamaran
LADY BARBARETTA - NECKER BELLE
Length: 32 m
LADY BARBARETTA is the fruit of the know-how shared between CMN and its subsidiary JMV. Designed by Naval Architects CPA (Chenus, Presles and Associates) this Hi-tech sailing catamaran is an all carbon fibre charter catamaran. At ...

sailing catamaran
FUTURA 49
Length: 15 m
FUTURA-YACHTS OFFERS SUPERIOR SECURITY BECAUSE they are due to the absence of any stabilizing ballast basically unsinkable. The uninhabited hulls can also be closed off as needed so that a possible flooding will be confined to a small ...

Length: 19.5 m
The large-sized catamarans signed Claude KERMOAL hâve sailed the seas for 30 years. TODAY THE LINEAGE IS EXTENDED BY THE ARRIVAL OF NEW RANGES OF CATAMARANS!. The shipyard "Squalt marine international" headed by Claude KERMOAL, surrounded ...
See the other products
Squalt marine international

Length: 15 m
Designed by an international team of architects and designers, and made entirely in the Italian region of Marche, the Silicon Valley of the nautical industry, ITA 14.99 is a work of high naval engineering, built exclusively using only ...

sailing catamaran
FUTURA 49
Length: 15.2 m
FUTURA AND POLAR FUTURA starts at POLAR YACHT MANUFACTORY "The POLAR Yacht Manufactory is the ideal partner for us," explains Gerhard Euchenhofer, CEO of Futura Yacht Systems. "The shipyard specialises in high quality production and ...

Length: 15.4 m
The new Bluewater 50 catamaran, an exciting design by highly-acclaimed Naval Architect Bill Dixon.The yacht embraces you as you step aboard with a central cockpit aft forming an ideal seating/entertaining area with direct access to the ...

Length: 20 m
Type : Fast cruising catamaran Construction : Boatyard-Chantier Naval scotto - Strip Planking and carbon composite Features : 20 m x 11. 80 m This catamaran is built for long distance cruising and to participate to transoceanic races. ...
See the other products
BOAT TRIP

Length: 23.2 m
Our new Explorer 760, is the latest adaptation of the highly successful Silhouette 760. With the removal of the foredeck master cabin, the new layout enables 360 degree views from the saloon and removes a considerable amount of weight ...
See the other products
Matrix Yachts

sailing catamaran
ROSELLA 36C
Length: 11 m
There is always someone asking: I need a boat capable of carrying a lot of passengers. I need a boat suitable for having a party with friends. I need a boat for fishing. I need a boat that can drive close to sand beaches. I need ...

Length: 16.8 m
LOA: 16.76m BOA: 8m Displacement (light) 9800kg Draft: 1.3m Category: Category A (Ocean) MOCRA rating @ 10T = 1.228 MOCRA rating @ 12T = 1.162 Engine: 2 x 40hp on shafts diesel Electric hybrid option is also available. Fuel: 300ltrs Water: ...
See the other products
Multimarine Composites

Length: 11 m
Dazcats latest design, due to begin production in 2017, is a new performance tiller-steering design. This replaces our D995 and design features include her super light weight with taller rig for increased speed, kick-up rudders for beaching, ...
See the other products
Dazcat Catamarans

Length: 12.7 m
Catamaran designs were not initially considered as an option for Farrier Marine, Inc, but a number of Farrier trimaran owners considering moving up to large catamarans have commented that the boats in general just did not perform well, ...
See the other products
Farrier Marine (NZ)

sailing catamaran
SLYDER 49
Length: 15 m
The SLYDER 49 is a very sporting, modern cruising catamaran with an excellent ambience.pecial features:Two helm stations aft on the hulls. From here the sailor has the clear view forward and towards the sails. The aft two helm stations ...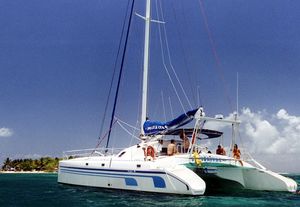 sailing catamaran
FREYDIS 46'
Length: 14 m
Main specifications - Length overall 13.99 m - Length at water line 13.99 m - Width 7.80 m - Draft 1.10 m - Weight on cruising conditions 7.5 à 8 Tons - Free board height 1.60 m - Height under deck beam 1.95 m - Height in hulls 2.00 m
See the other products
Tournier Marine