The Online Boating and Maritime Exhibition

Length: 3.85 m
The Ace is a really stable boat mainly used for family cruising on rivers, lakes and canals. It can safely welcome 5 persons. Pilot will sit to the aft of the deck The ACE boat enable pilot to sit to the aft deck on spacious seat ...
See the other products
Ruban Bleu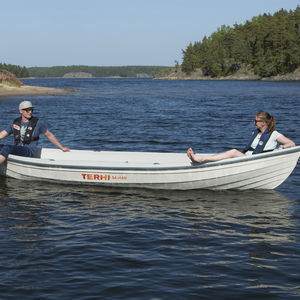 outboard small boat
Saiman Solar
Length: 4.78 m
Saiman Solar is the choice for the environment conscious boater. It gets its energy from the sun, which is transfered via solar panels to the electric outboard engine. Especially for lakes where combustion engines are prohibited. The ...

outboard pontoon boat
BASS BUGGY® 16 DLX ET
Length: 16'00"
10+LIFE™ Limited Lifetime warranty 24" (60.96 cm) diameter multichambered pontoon logs Torqeedo® electric motor & lithium batters w/Battery Management System (BMS) Built-in Rail-Lock™ system for mounting optional snapless mooring cover NEW ...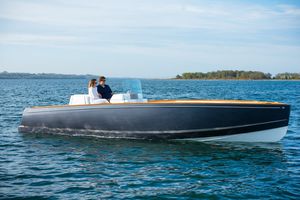 inboard center console boat
DASHER
Length: 28'07"
The future is here. Since 1928, Hinckley has been leading the way in the design of beautiful, highly innovative and timeless yachts. In the spirit of our legacy of innovation, we are excited to announce Dasher, the world's first fully ...

inboard express cruiser
E34 SEDAN
Length: 33'09"
The 'E' in the BAVARIA E34 could just as well stand for 'ease'. Relaxation is practically guaranteed. Enjoy life on the water to the full, in the enormous cockpit which invites you to relax, or on the bathing platform at the stern. It ...

outboard pontoon boat
BRIO 15
Length: 4.6 m
Listen. Do you hear the sound of tranquility and freedom? That's what Brio's German-engineered, state-of-the-art electric motor offers. This 100% electric, incredibly quiet pontoon will take you everywhere, even where gas motors are prohibited. ...
See the other products
Bateaux Princecraft

Length: 4.03 m
A light clinker-built rowboat for lakes. Versatile and easy to load onto a car roof and carry between different waters. Can be fitted with small outboard or electric motor. An environment friendlier choice of boat. Made in high-quality ...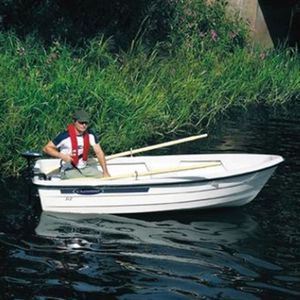 electric small boat
312 ELECTRA
Length: 3.08 m
With an environmentally friendly electric motor fitted the Electra 312 is a perfect choice for still waters if you don't fancy rowing! Electra 312 is a small boat used for fishing, pleasure trips or even just for rowing. Its light weight ...

outboard pontoon boat
Explorer 1470
Length: 4.57 m
This size pontoon allows the perfect design for boaters who are looking for a compact boat that can be rigged with either a small gas powered outboard, or a battery powered electric motor. Don't let the size fool you- these boats have ...

inboard cabin cruiser
Q30
Length: 9.3 m
SPECIFICATIONS LOA 9.3 m Beam 2.2 m Draft 0.5 m Displacement 1 500 kg Cruising speed 9 knots Fast Cruising 15 knots Range at Cruising 42 / 80 nautical miles (30 / 60 kWh) Range at Fast Cruising 22 / 40 nautical miles (30 / 60 ...

outboard small boat
Lingalaid 455
Length: 4.5 m
Lingalaid 455 With its light, long and slim body line, it is probably one of the best boats for rowing or electric motor rides.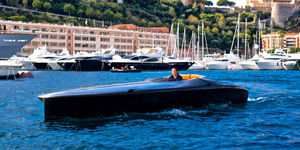 solar-electric powered center console boat
Length: 10 m
A photovoltaic dream in delicious shades of carbon fiber, solar cells and lush orange leather. Long before the Tesla Model S turned heads, this solar electric carbon fibre speedboat cruised the bay of Monaco at 30 knots. Soel Yachts ...

inboard small boat
550 ECO
Length: 5.49 m
Length overall 5,49 m Beam overall 1,88 m Draft 0,3 m Electric inboard engine 3,6 kW Max. number of persons 7 Displacement light 800 kg Max. load 600 kg Batteries capacity (max.) 4 x 225 Ah Max. ...

inboard cabin cruiser
CANCUN 290 CABIN
Length: 9.13 m
CANCUN 290 CABIN, FUNCTIONAL AND MODERN The Cabin 290 Cancun is presented as a versatile cruiser, ideal for both recreational boating and family leisure trips. Sailing is highlighted by a very smooth transition from wave and excellent ...
See the other products
ST Boats

inboard runabout
aquawatt 848
Length: 8.48 m
aquawatt 848 is the most innovative electric yacht design for highest demands. 100% free from exhaust emission and oil, at the same time almost noiseless, this electric yacht provides pure driving pleasure on crystal clear lakes and in ...
See the other products
AquaWatt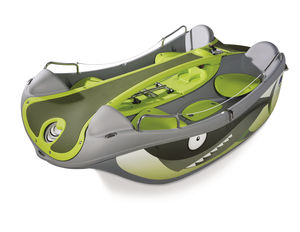 electric center console boat
GOGO 4
Length: 3.85 m
GOGO ELECTRIC the new 100% recyclable electric boat, technology, innovative design, made in Italy make Eletric a one of a kind boat. ELECTRIC is an advantageous investment for boat and paddle boat hire and for all those holiday facilities ...
See the other products
GardaSolar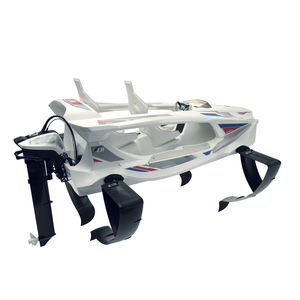 Length: 2.99 m
Meet Q2A, our entry level model that will introduce you to the next generation of watercrafts and let you experience the amazing feeling of freedom while you soar above the water. Developed to be driven in lakes and coastal zones, it ...
See the other products
Quadrofoil

inboard cabin cruiser
ARVIRO 10
Length: 9.99 m
Concept Safe at open water, minimal maintenance, shallow draft, low air draft, trailerable, ready for all seasons, no fossil fuels needed, tough and classic looks, compact dimensions, silent & clean motoring, best-of-breed modular and ...

Length: 20'04"
The Electric boat is not about speed, it is a lifestyle It is not about getting to a destination Agracieux way to entretain family friends and business associates with a relaxing cruise around harbors, lakes or waterways or as a luxurious ...
See the other products
LEAR ELECTRIC BOATS

Length: 6.1 m
eLex 610 – natural elegance built with passion Elegance and highest boatbuilding quality characterize this world premiere of the Austrian lake Woerthersee. The eLex 610 combines design and practical use and disclose their added value ...

Length: 9.6 m
The FOILER is a radical evolution from any regular yacht. Its fully carbon fiber hull is designed not only for a 007 look, but is also promised for easier takeoff, a smooth landing, and comfortable sailing without using the foils. Its ...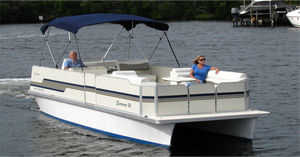 inboard pontoon boat
ElectroCat
Length: 7.92 m
This large pontoon is great for families, fishing, entertaining friends or cruising on lakes, rivers or intracoastals. These are just the beginnings of your many Fun- Deck or Fisher experiences. Take a close look at the new ElectroCat ...
See the other products
Ray Electric Outboard

catamaran cabin cruiser
CRUISER 29.5
Length: 9 m
Outcut 29.5 is a towable catamaran with variable widths with a unique habitability in just nine metres and an unprecedented efficiency. It can be supplied with an open or cruiser set-up and equipped with a combustion or electric engine ...
See the other products
OUTCUT

outboard express cruiser
Nexus Revo 870
Length: 8.7 m
The premiere of the season 2017 Nexus Revo 870 is a vessel designed to meet the expectations of the most demanding shipowners in the sector of displacement and semi planing yachts. We connected its nautical qualities, verified in its ...

inboard cabin cruiser
WINDRUSH
Length: 7.82 m
The Windrush 25 launch is the brilliant new boat from Bossoms Boatyard for entertaining family and friends - or maybe just for a couple who sometimes want to leave the busy world behind! As traditional Thames river launch builders, we ...
See the other products
Bossoms Boatyard