Yacht underwater lights
How to choose this product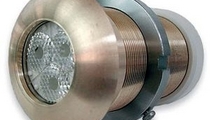 An underwater yacht light is installed under the hull for seabed lighting and decorative effects. It can be attached to the surface of the hull or mounted through the hull. Most use LED (light-emitting diode) bulbs.
Applications
Such lighting is particularly popular on luxury yachts.
Technologies
A perfectly watertight lamp (minimum IP7 standard) featuring multiple LEDs is installed under the hull and connected to the on-board electrical system via a control panel, computer or tablet. Some offer multiple color options. The lamp body is through-hull or surface-mounted. In the latter, only the wires pass through the hull. Both types require very careful installation to avoid water leaks. Some use fiber optics.
How to choose
Surface-mounted models need only a small hole in the hull, while through-hull versions require a opening.
Advantages
- Spectacular lighting effects
- LEDs consume little power
Disadvantages
- Requires piercing the hull
8
companies |
33
products (boat or nautical equipment)
LED surfacemount
S1515

Abyss Technology
The S1515 is our most powerful underwater flood light, illuminating a wide area up to 100 feet from your vessel. Price includes a 12/24V power regulator for up to 4 (four) lights. Application:...
LED flush mounted
Lumishore
Features and Specifications: • For permanent flush mounting on aluminum or steel vessels • LED array can be accessed from inside the vessel • Recommended for yachts over...
Filter by :
› New products

(0)

› Products with video

(5)
Extend the search
Search by manufacturer
Find a distributor
Search by catalog