How to choose this product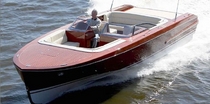 A yacht tender reflects the superior comfort, appearance, performance and reliability of the vessel it serves. On NauticExpo, yachts are defined as vessels over 15 meters long.
Applications
These craft are used primarily for transporting crew and passengers between the shore and a yacht at anchor. They also provide marine recreational possibilities in the form of exploration, fishing, diving, water skiing or similar activities. Other functions include reconnaissance of unknown waters and assistance during port maneuvers.
Technologies
Tenders can be rigid or inflatable, oared, motorized or even sailing craft. They are made of many different materials, though wood is favored for a retro runabout look. A high-tech look and contemporary materials such as carbon fiber, are preferable for a tender to a modern yacht.
How to choose
The aesthetically minded sailor will seek compatibility between yacht and tender. It is important to consider stowage and handling facilities aboard the mother vessel, which may include garage, crane, platform or other gear.

Engine size will be a function of intended use, such as towing sports or transport only. Passenger capacity and comfort, including number of seats and presence of hard-top or cabin, are other factors. Some tenders are even fitted with galley equipment for beach picnics.