The Online Boating and Maritime Exhibition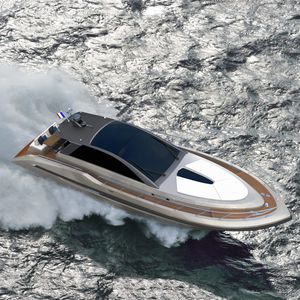 cruising motor yacht
1500
Length: 15.4 m
With her sporty, streamline and tapered design, this new model is as graceful, as she is striking. Perfectly expressing Couach savoir-faire, her exceptional seaworthiness and bespoke interiors highlight the "French luxury tradition" ...
See the other products
Yachts Couach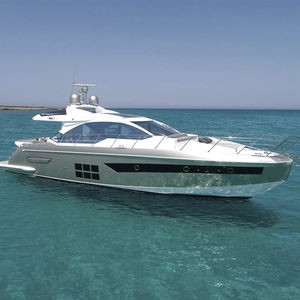 Length: 18 m
... styling & conceptStefano Righini Interior designerFrancesco Guida KeelDeadrise 15.5° at transome 21.2 midship BuilderAzimut Yachts Accomodation Cabins3+1 Berths6+1 Head compartments2+1 Performance Engines3 x ...
See the other products
Azimut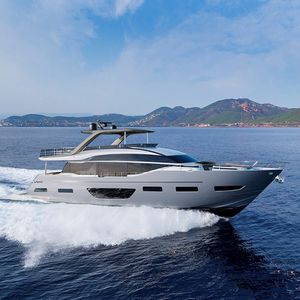 Length: 26.2 m
... arrangement. Three separate seating areas ensure the utmost privacy for guests with the crew able to move discretely around the yacht. Below deck, up to eight guests are accommodated across four beautifully appointed ...
See the other products
Princess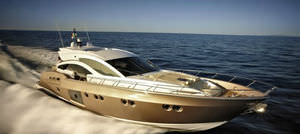 Length: 21.04 m
Elegance and power are its distinguishing features. , inspired by the lines of the sporty cars of the 60s. The atmosphere of the interior, characterized by a new dimension of livability, has been conceived to evoke a domestic setting ...
See the other products
Sessa Marine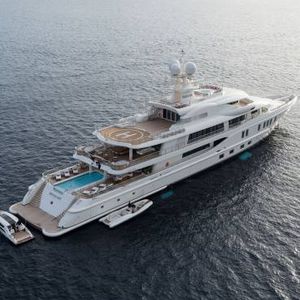 cruising mega-yacht
NEW SECRET
Length: 74 m
NEW SECRET is a gracious beauty, very good-looking but with a sophisticated discretion. There's a certain romantic austerity about her that you just can't take your eye off. Within her enigmatic exterior is a rich introspective interior ...
See the other products
Amels

cruising motor yacht
SUNDANCER 510 SIGNATURE
Length: 15.57 m
Introducing the Sundancer 510 Signature, a limited-run edition of the beloved Sundancer 510 featuring upgraded materials and select design changes, all geared toward delivering a truly premium boating experience. Made in America, with ...
See the other products
Sea Ray Sport Yachts

cruising motor yacht
CHECKMATE
Length: 23.95 m
TECH SHEETYear 2015 Length overall 23,95 m Maximum beam 6,55 m Draught 1,35 m Displacement (light ship) 48,5 tonnes Fuel tanks 4.800 L Fresh water tanks 1.100 L Engines 2 x Man V12 1.800 + MJP 450 DD Max Speed (light ship) 45 ...
See the other products
Wally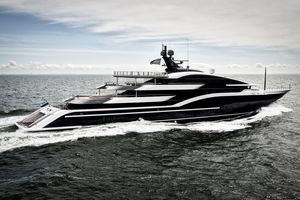 Length: 90 m
... advances bear the unmistakable DNA of an Oceanco: she reflects the latest advances in glass technology and she is the first yacht in the Netherlands to be given the official Lloyd's Register Integrated Bridge System (IBS) ...
See the other products
Oceanco

cruising motor yacht
T63 GT
Length: 19.96 m
Characterised by Alberto Mancini's striking design language and Vripack's renowned naval architecture, the new Targa 63 GT unites design legacy with vision. Socialise with ease in the extended saloon. Sharing the same striking appeal ...
See the other products
Fairline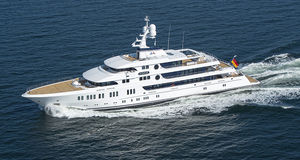 cruising mega-yacht
AURORA
Length: 74 m
Year:2017 Length:74.00 m / 242'9" Exterior:Winch Design Interior:Winch Design
See the other products
Lurssen Yachts

Length: 20.87 m
Copious large yacht features ingeniously fitted within a manageable owner/operator framework – this is the cornerstone of the new Horizon V68 model. Created in collaboration with world-renowned designer Jonathan Quinn ...
See the other products
Horizon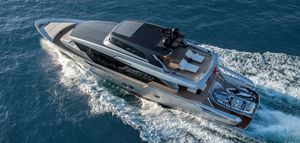 cruising motor yacht
SX88
Length: 26.7 m
... stern to bow – your exclusive loft on a 27-meter yacht. Alternatively, a grand owner's suite can be placed on this deck for a more intimate solution, an absolute exclusivity of SX88 in this range of yachts. ...
See the other products
Cantieri Navali San Lorenzo

cruising mega-yacht
Voyager
Length: 49.8 m
... indoor-outdoor areas. The design studio's extensive experience of designing sailing yachts is evident in the intelligent use of available space to create a 50m yacht with the features and services of ...
See the other products
Perini Navi

cruising super-yacht
NORTHLAND
Length: 31.5 m
... Basto of Miami, Florida USA. De Basto, working closely with the owner, created a stylish, ocean going, long range explorer yacht for cruising and fishing the world's sportfishing hot spots.
See the other products
Burger

cruising super-yacht
38M FAST
Length: 37.9 m
OUTLINE SPECIFICATION Hull type: Hard chine, twin propeller Motor Yacht Builder: Baglietto S.p.A. Hull and engineering: Baglietto S.p.A. Exterior design: F. Paszkowski Interior design: F. Paszkowski, Baglietto S.p.A. Classification: ...
See the other products
Baglietto spa

Length: 40.87 m
The WIDER 130 is a full displacement, all aluminium yacht with Diesel Electric propulsion designed to offer exceptional range and spacious living without compromising the clean modern lines that WIDER are known for. The ...
See the other products
Wider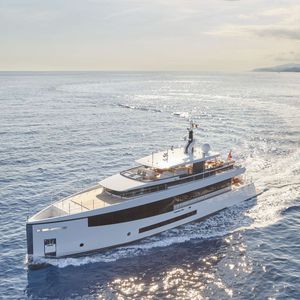 cruising super-yacht
LETANI
Length: 34.65 m
The 34.65-metre Feadship Letani was completed in record time for a client resident in the Far East. Designed to allow access to shallow waters and smaller marinas in Europe, Scandinavia, the Indian Ocean and Asia, this new Feadship has ...
See the other products
Feadship

cruising motor yacht
L550
Length: 17.14 m
Balance is achieved through the pursuit of perfection. The L550 delivers that balance by marrying substantial capability with transcendent aesthetics. This is beauty that inspires and substance that delivers, together in a harmonious ...
See the other products
Sea Ray L Class

sport motor yacht
Gran Turismo 49 Fly
Length: 15.73 m
EXTERIOR DESIGN The sport Flybridge has been completely built into the sporty line of the boat. A real panoramic terrace, you will enjoy the height and the even greater driving sensations. In the cockpit, the bench seats convert into ...
See the other products
Bénéteau Motorboats

sport-fishing motor yacht
52 EX
Length: 16.74 m
As the flagship of the CABO fleet, the 52 Express meets the superior standards set by her smaller siblings - then takes them to the next level. Built with the same precision, performance and fishability for which the CABO brand is widely ...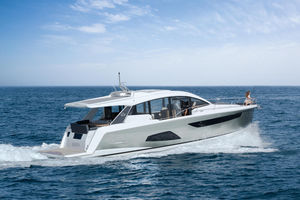 cruising motor yacht
C530
Length: 16.13 m
... electrical sun-roofs, a panoramic view in the saloon and a top speed of 34 knots are just a view features that make this motor yacht irresistible. Space, air and light follow you wherever you are on this boat. A large ...
See the other products
Sealine

Length: 16.15 m
... greatest luxury should serve its purpose. A world-class propulsion system launches this yacht with its rich master stateroom and sprawling levels. Customize your yacht and its entire experience to take ...

cruising motor yacht
60 FLY
Length: 18.49 m
LENGTH OVERALL APPROX.60 ft 8 in BEAM MAX APPROX.15 ft 10 in DRAFT (INCL.PROPS) APPROX.4 ft 4 in HEIGHT ABOVE WATERLINE APPROX.22 ft 6 in CONSTRUCTION HEIGHT APPROX.9 ft 5 in DRY WEIGHT APPROX.57.400 lbs PASSENGERS AND WEIGHT APPROX.14/3.090 ...
See the other products
Cranchi

cruising motor yacht
C52 COUPE
Length: 15.78 m
The New C52 Coupe. Everything you want in a Coupe and so much more. Carver Yachts is continuing to blaze new trails in the mid-size luxury yacht market with the introduction of its new C52 Coupe. With ...

classic motor yacht
64' FLY
Length: 19.4 m
Apreamare 64′ fly is the formal development of the original Gozzo Sorrentino. The outdoor areas are defined as essential and elegant. In the area of ​​the bow there is the well-known U-shaped sofa, while the stern area, the key point ...
See the other products
APREAMARE