How to choose this product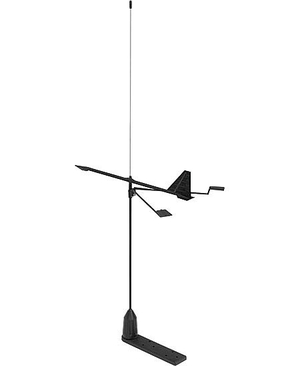 A wind vane is an instrument which indicates apparent wind direction.
Applications
These devices are very useful aboard sailboats for steering the ideal course with respect to wind direction and for adjusting the set of the sails. They also facilitate anchoring and provide essential information when seeking a lee shelter or preparing to dock. Race organizers use them to position course and starting line buoys.
Technologies
The vane's arrow pivots freely, orienting itself to the direction of the wind. Simple, mechanical masthead models serve as visual indicators of wind direction. Lateral flanges show the helm how close to the wind it is possible to steer.

Electronic models transmit data to a screen on the instrument panel. Newer, wireless systems considerably simplify installation. These sensors usually indicate wind speed, as well. Hand-held versions use a small, rigid flag or electronics with a digital display. Some vanes are integrated into VHF antennas.
How to choose
Depending on the size of the boat and, especially, the sophistication of its electronics, choose between a mechanical vane and an electronic unit. The precise data provided by the latter is particularly useful for racing sailors.