How to choose this product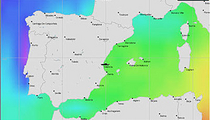 Weather software is a program allowing an onboard computer to receive, compile and analyze meteorological data to facilitate the mariner's decisions.
Applications
These programs are used on both recreational and commercial craft. Each offers a different range of functions, which may include display of WeatherFax, Navtex, RTTY or GRIB bulletins, data from on-board sensors, satellite images or even storm detection within a given radius.

Some supply Pilot Charts, which offer weather and sea data gathered by the U.S. Weather Service since 1850 from locations around the world. This includes wind, current and other sea and weather statistics for different periods of the year. Other programs suggest optimal routes as a function of vessel parameters and GRIB wind speed and direction forecasts.
Technologies
Certain software only works if the boat's computer is connected to sensors. GRIB files are accessible via an Internet connection, for example via GSM (cellphone) in coastal areas or direct satellite link (e.g., standard C-band) offshore.
How to choose
Choice will depend on compatibility between the vessel's computer operating system and the software.