Watertight doors for ship
23 companies | 48 products
How to choose this product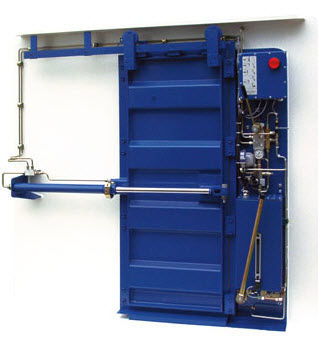 A ships watertight door hermetically seals an opening in a bulkhead or an exterior doorway. It prevents water from entering or circulating within the vessel in case of a leak or rough seas. Those offered on NauticExpo are intended for use aboard commercial and work vessels rather than recreational craft.
Applications
Such doors seal off watertight compartments and interior/exterior doorways, and form part of the ship's safety equipment. Some, such as engine room doors, are also designed to halt the spread of fire.
Technologies
Most of these doors are metal. A locking mechanism consisting of a hydraulic cylinder or manually-operated wheel forces the door against its frame, thereby ensuring watertightness. Hydraulic models can be operated from a control panel, for example on the bridge. This system can be used to shut all the vessel's watertight doors with the simple push of a button or the click of a mouse.

Such doors are either hinged or sliding and some feature a porthole. Certain models presented here are designed to close off the cargo and vehicle loading access points on RoRo ships.
How to choose
All ships are subject to very strict conventions or norms specifying the degree of watertight security required for various compartments.