How to choose this product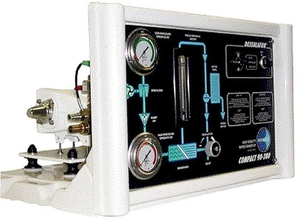 A water maker extracts the salt from sea water. NauticExpo lists boat models by required voltage: 12 V, 24 V, 230 V, etc. Ships models use a variety of systems such as reverse osmosis and distillation.
Applications
These devices are used on board to produce fresh water from salt water. They can be indispensable for long-distance cruising and exploration, on passenger ships, freighters, fishing boats and other vessels whose fresh water consumption exceeds storage capacity.
Technologies
The equipment uses one of a number of desalination systems. These include reverse osmosis, distillation, refrigeration and evaporation, each functioning in a different way. The machinery is more or less compact, with an integrated or remote control panel. Many require additional filters, membranes, pumps, piping and other systems. Water makers are generally rated by output in liters per hour.
How to choose
Choice will depend on output and energy consumption, as well as the space available for installation. On ships, the type of desalination system is another factor.
Advantages
- Independent fresh water production
Disadvantages
- Possible reduced water quality