The Online Boating and Maritime Exhibition

yacht watermaker
BLUE SERIE
The Watermaker, reduced to the basic essentials for the reliable production of your fresh water. Purposely parts that are not needed for the basic and reliable water production were left out. The result is a watermaker ...
See the other products
Aquagiv watermakers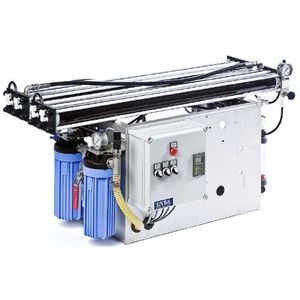 ship watermaker
MT 1500-6000
Watermaker produces drinking water from sea water based upon the reverse osmosis membrane technique. The capacities are 1500, 2300, 1800, 3200, 4500, 5500 or 6000 l/24h from seawater (25o C). The quality of the ...
See the other products
ENWA Sandnes

Promac has proven to be able to manufacture a wide variety of potable water-makers in our own factory based on membrane technology. We have clients using our equipment for over 50 years; Worldwide ranging from private ...
See the other products
Promac BV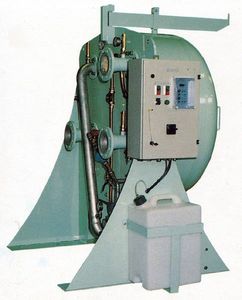 ship watermaker
PLATE TYPE
Fresh Water Generator is used to desalinate seawater for the ships. There are two types fresh water generator, R/O type and Low-pressure vapor type. Low-pressure vapor type is most widely used in commercial ships because it utilizes wasted ...

boat watermaker
SEAFARI VERSATILE
The new Seafari Self Contained Versatile watermaker features a new remote mount cube design that allows easy installation and access. As always the Seafari is capable of producing 1800 gallons (6800 liters) per day, perfect ...
See the other products
HRO systems

boat watermaker
DB Panel Series
... valves and fittings Non-corrosive nylock low-pressure fittings and color-coded nylon tubing Included with every DB Series Watermaker Manual freshwater flush package Pre-Filter (Feeder) Pump (1) 5 Micron Pleated Pre-Filter ...
See the other products
Sk Watermakers

boat watermaker
SURVIVOR 06
... hand-operated emergency desalinator in the world. Compact and lightweight. Recommended for emergency liferafts and individual survival kits. Trusted by militaries and individuals around the globe. Complement Your Desalinator ...
See the other products
Katadyn

... integration via PLC available Headhunter Inc. breaks into the watermaking industry with our line of OASIS reverse osmosis watermakers. Integrating state of the art features and quality components, Oasis Water Management ...

boat watermaker
MINIMAR PLUS
... allows the simple control of all functions. One-touch operation. The watermaker can also work in manual mode. Possibility to start the automatic membranes flushing cycle when the watermaker stops (optional). ...
See the other products
Tecnicomar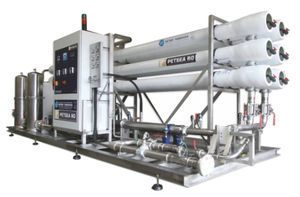 ship watermaker
PETSEA RO
Characteristics Highly reliable systems. Manufactured in a stainless steel skid for a longlife. Compact systems and easy maintenance. Increasable water production systems. All the units include feeding pump, sand ...
See the other products
Peter Taboada