How to choose this product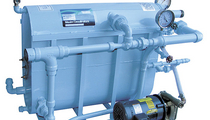 The ships water maker produces fresh water from salt water drawn directly from the sea. NauticExpo offers different types using different desalination processes, including reverse osmosis, evaporation and distillation.
Applications
These devices produce the fresh water needed to meet on-board needs.
Technologies
Such equipment uses different methods of producing fresh water. Reverse osmosis systems use a series of membranes to remove salt. Other types use evaporation, distillation or another process. Ships carry much larger water makers than boats or yachts, giving them the ability to produce substantial quantities of fresh water.
How to choose
The operational characteristics of each type of water maker should be considered. For example, reverse osmosis systems are the least expensive, but their output per unit input of seawater is relatively low.
Advantages
- Independent production of fresh water.