How to choose this product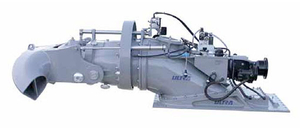 A water-jet drive is a propulsion system capable of generating great speed by shooting a stream of water astern.
Applications
These systems are used in high-speed boats.
Technologies
Such drives pump water at great velocity through a nozzle pointing astern, propelling the boat forward. They consist of a water intake and hoses, an intake pump, a nozzle and, in some designs, deflectors for steering.
How to choose
Nozzle and deflector design, and engine power must be considered when choosing a water-jet drive. These systems are efficient at high speed, but low-speed maneuvers are more difficult.
Disadvantages
- Difficult maneuvering at low speed