How to choose this product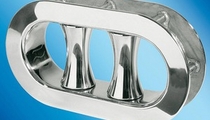 A warping fairlead is a fitting used to guide the run of lines during docking, mooring or vessel-shifting operations to avoid friction that causes line wear. Distributed along the length of the vessel, fairleads determine the points at which the lines exert pull and serve to balance the load.
Applications
These fittings direct lines from a ship to the shore or to another fixed point on the vessel. Employed on ships, as well as boats and yachts, especially those with high freeboard or bulwarks, they allow mooring lines to be run ashore or to a tugboat or another vessel without hindrance.
Technologies
The simplest fairlead is an ovoid opening recessed into the bulwarks. Small, leisure-craft versions generally consist of vertical arms attached to a plate bolted to the deck. The lines run between these arms. They are usually made of stainless steel, sometimes of aluminum. The inner, contact part of the fitting is smooth and rounded to avoid damaging the lines. Some have cylindrical rollers to reduce friction even further.
How to choose
The dimensions of the ship, the location of the fairlead, the diameter of the line and the fitting's specific intended use are the factors to consider.