How to choose this product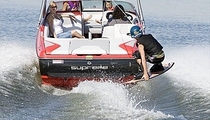 Wakeboard runabouts are motor-boats featuring open afts and presenting encased engines powerful enough to pull water sports devices.
Applications
Their main application is to pull wakeboards and water skis; they can however be used for short cruises, fishing, sunbathing, etc.
Technologies
Wakeboard runabouts are small-sized, fast and easily maneuverable. They are by definition decked at the bow and open at the piloting station level and at the aft. The latter must be clutter-free to allow access to and from the water.

They can be equipped with any type of motorization. Outboard engines aren't recommended for pulling as they can put the rider at risk and can entangle the skiing equipment.

Most runabouts feature no cabins. Some present a one-room interior space with a small bunk, and sometimes a toilet.

A great majority of models are made of laminated fiberglass or of wood (classic design).
How to choose
Hydrojet propulsion present many advantages in terms of safety.

Choose a model with a spacious aft so as to facilitate manipulations and observation.

Some models have removable bunks or sunbathing benches, an interesting and polyvalent option.

Adverse weather conditions make the presence of a small cabin a worthwhile option.