How to choose this product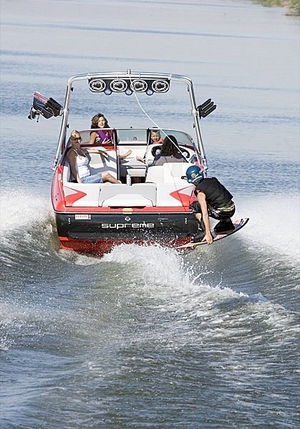 Wakeboard runabouts are powerboats with a decked bow and open aft. They have engines powerful enough to tow water-sports devices.
Applications
While primarily used to tow wakeboarders and water skiers, these craft also can be used for short outings, fishing, relaxing afloat and other activities.
Technologies
These vessels are small, fast and maneuverable. By definition they have a foredeck, an open cockpit and stern area, which must remain unencumbered to allow skier access to and from the water. Most have no cabin, though certain models have an enclosed area with small berth and sometimes a toilet.

A great majority are made of laminated fiberglass or of wood, for a traditional look. While they can have any type of motor, outboards constitute a danger for the wakeboarder; the towline can become entangled in the propeller.
How to choose
Hydro-jet propulsion offers many safety advantages. Choose a model with enough room aft to facilitate operations and supervision of riders. Some models have removable benches or sunbathing platforms, increasing flexibility. A small cabin expands cruising options.