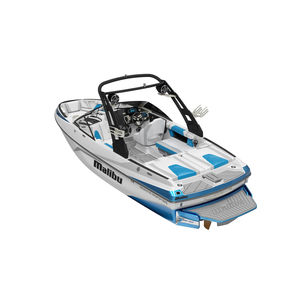 Length: 6.4 m
Designed for the purist who wants a do-it-all crossover, the 21 VLX is classic Malibu—the multisport towboat our fans have been dreaming of and asking for. Length 21' / 6.40m Beam 98" / 2.5m Draft ...
See the other products
Malibu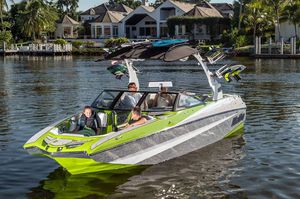 Length: 7.13 m
RULE THE WATER AND LIVE LARGER IN THE REVOLUTIONARY NEW MALIBU M235—THE ONE YOU'VE BEEN WAITING FOR Developed in utmost secrecy, Malibu's new M235 was designed to be nothing less than the most ultra-premium performance towboat the ...
See the other products
Malibu

Length: 7 m
The Bella 700 BR – Bow Rider is the latest open boat model in Bella's modern boat range. It's a sporty and practical family boat with a wide range of practical features. The Bella 700 BR offers plenty of space and numerous opportunities ...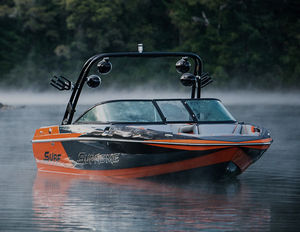 Length: 6.38 m
The 2016 Supreme S211 measures just under 21 feet while packing the World Class performance and accommodation of a much larger towboat at a huge value. S211 performance begins with the wave- making Deep-v Hull, complimented by QuickFill ...
See the other products
Supreme Boats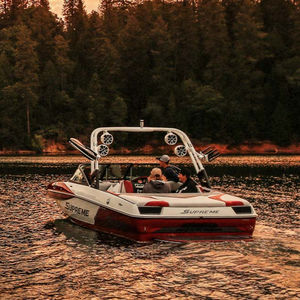 Length: 6.86 m
... 1500 pounds and this Supreme is ready to shred. This 22-foot 6-inch towboat displaces enough water to impress accomplished wakeboarding, wakeskating and wake surfing professionals. The S226 is also available with QuickSurf ...
See the other products
Supreme Boats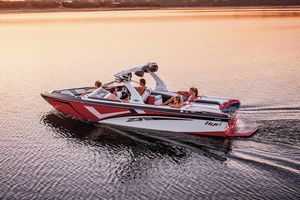 Length: 7.01 m
The Z3 has been a crowd favorite for years. Featuring precision handling, on-demand versatile performance, and a modern twist on the traditional bow, the Z3 is the perfect fit for those who want to shred with style. Striking beauty? Check. ...
See the other products
Tigé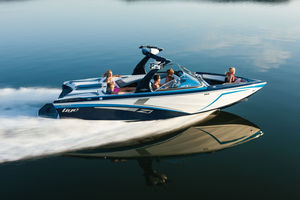 Length: 6.6 m
... fight. No matter what sport or activity you throw at it, the Z1 delivers on its reputation. Dial in a slalom wake, a huge wakeboarding wake or a surf wave sweet enough to fuel your endless summer. Specifications Length: ...
See the other products
Tigé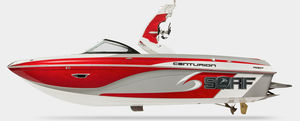 Length: 6.55 m
Rigorous innovation continues at Centurion Boats with the new 2016 Ri217. Offering World Championship level wakeboarding, wake surfing, ride and handling in a popularly sized package; the Ri217 is the best of all worlds ...
See the other products
Centurion Boats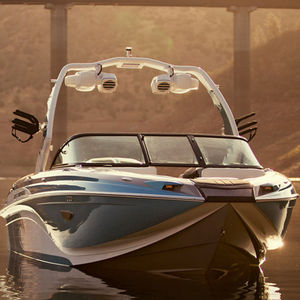 Length: 7.18 m
A rigorously innovated 23-foot 7-inch water sports boat, the new 2016 Ri237 is the next level in World Championship Towboat performance, design and craftsmanship. This new model is optimized from the running surface up to exceed Centurion's ...
See the other products
Centurion Boats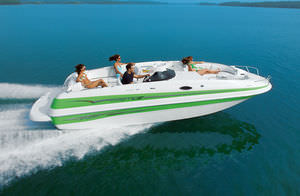 inboard runabout
2500 SS SC FC
Length: 7.92 m
The perfect combination of luxury boating, tubing, wakeboarding, cruising, and camping. Whether you like the look and feel of a full windshield or the wind-in-your hair openness of a single console, the 2500 fun cruisers ...

inboard runabout
LX 195S IO
Length: 6.9 m
Even when sitting still, this boat creates its own fun. Lounge in supreme comfort. Refresh with a dip off the oversized swim platform. And when you're skimming across the water, the 195S design makes it a thrill to drive and a natural ...
See the other products
Larson

inboard runabout
LXI 238 IO
Length: 8.63 m
Is it the way the hull forms a fluid line with the swim platform? Or how the bow stands so proud? Whatever it is, you're drawn to the look of the LXi 238 at first glance. Then you experience life on the inside, and things look even better.
See the other products
Larson

Length: 5.92 m
The Crownline team went above and beyond to bring value-adding features to the 195 SS. You'll find the features you expect from a Crownline, like stainless steel hardware, cup holders and grab handles, plenty of storage and much more. ...
See the other products
Crownline

Length: 6.53 m
The Crownline 215 SS is a show stopper. With a sexy and sleek exterior profile, this Crownline stands out in a crowd with an interior that won't disappoint. Long after the sun goes down, you'll be appreciating the top of the line features ...
See the other products
Crownline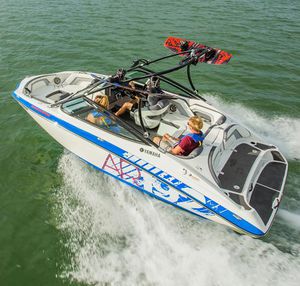 Length: 5.79 m
The AR192 is the perfect choice for families who want a watersports-ready runabout with extra horsepower for towing. This energetic runabout features a supercharged 1.8 liter Super High Output Yamaha ...
See the other products
Yamaha Sport Boat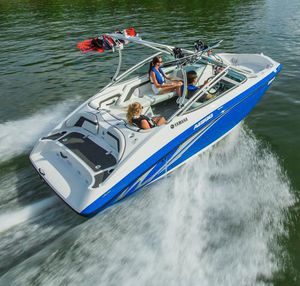 Length: 5.79 m
All the features of a more expensive watersports runabout, at a price that makes it easy for first time buyers to get on the water and have fun. Yamaha's jet propulsion system offers the advantage of getting on plane ...
See the other products
Yamaha Sport Boat

Length: 6.1 m
The sickest 20-foot boat in watersports history is back and ready to rumble. The all-new Axis A20 has been redesigned from the hull up for 2016. Renowned for its wicked agility and precision, this "little monster" is easy on the bank ...
See the other products
Axis wake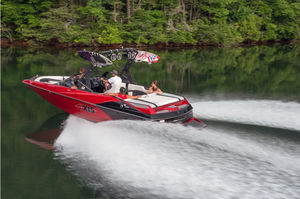 Length: 6.68 m
... scratch—with a new wake-and-wave-maximizing hull—this aggressive 22-footer is built to create the perfect playground for wakeboarders and -surfers of all skill levels. And with the revolutionary Surf Gate, you can ride ...
See the other products
Axis wake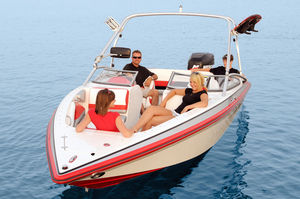 wakeboard runabout
2400 BRX
Length: 7.31 m
Overall length: 24´ Beam: 99 Degree of Deadrise: 22° @ transom Max HP: Unlimited Approximate Weight: 2,200 lbs. Approximate Fuel Capacity: 63 Gal. Standard Equipment Mercruy 300 XS Optimax* ZT Four Color Gelcoat Graphics Color Keyed ...

inboard runabout
20' SUPER SPORT DRIFTER
Length: 6.17 m
... surely pack a heavy load of persons, game and gear. It also pulls effortlessly, thus is a favorite among the Skiing and Wakeboard crowd. Super Sport Drifters, like all Wooldridge boats, are designed for strength without ...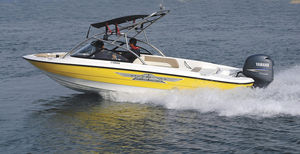 outboard runabout
YAMAHA AG 21
Length: 6.65 m
Standard Features Hydraulic steering system Anchoring and navigation lights Bow and stern seats Wake tower with canvas top Safety package: (life ring x1, life jacket x4, first aid kit, fire extinguisher, radar reflector, anchor ...

Length: 6.88 m
... a boat designed for family fun. It offers you the performance and versatility you need to cruise, dive, entertain – even wakeboard – in comfort. It's loaded with advanced, family friendly features and, of course, a smoother, ...