How to choose this product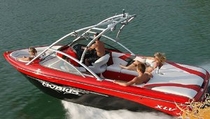 A wakeboard boat has features designed to optimize wakeboarding. Quite comfortable, it has seats facing aft, stereo equipment and other amenities.
Applications
Though intended for wakeboarding, these powerboats also can be used for other nautical activities. However, their hull shape and low freeboard make them suitable only for relatively calm waters.
Technologies
The tow rope is attached to a tower. This elevated tow point facilitates jumps and other maneuvers. The tower also serves as a board storage rack and holds loudspeakers. The hull is often V-shaped and ballasted to lower the stern. This produces a larger wake, constituting a better springboard for the rider. Some models have an electronic system controlling the acceleration and tow speed of the inboard engine.
How to choose
Budget is the determining factor. However, choice also will depend on the number of people to be carried and desired optional features such as boat color, stereo system and tower type.
Advantages
- Ballast system for optimum wake
- Driver and passenger comfort
- Inboard motor
- Aft deck limits prop-related accidents
Disadvantages
- Propeller shaft makes trailering difficult
- Uncomfortable in chop