How to choose this product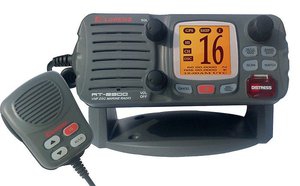 The very high frequency (VHF) radio operates in the 30-300 MHz range.
Applications
These radios permit communications between different stations. They represent a significant advantage in case of serious problems at sea, and are widely used in the maritime world.

They are used for non-emergency communications between vessels or a vessel and the shore, including with maritime authorities. They also can receive weather reports and notices to mariners. Certain models are capable of text, GPS, AIS and other communications, further expanding their utility.
Technologies
Such radios use half-duplex communication, in which stations must send and receive sequentially rather than simultaneously. Maximum range is about 20 nautical miles for fixed radios and three to six miles for portable units, depending on antenna height.

Digital Selective Calling (DSC) radios provide automatic identification of the vessel by MMSI number and the exchange of text messages, especially prerecorded distress calls such as a piracy alert. Some VHFs incorporate a GPS function, while others can receive Automatic Identification System (AIS) signals.
How to choose
Choice will depend on specific use, portability needs and DSC capability. Frequencies above 100 MHz are well-suited to high-speed data transmission. SOLAS ships in zone A1 are required to have a DSC-capable VHF.
Advantages
- Free communication
- Optional AIS and DSC functions
- Enhanced safety
Disadvantages
- Affected by weather conditions