How to choose this product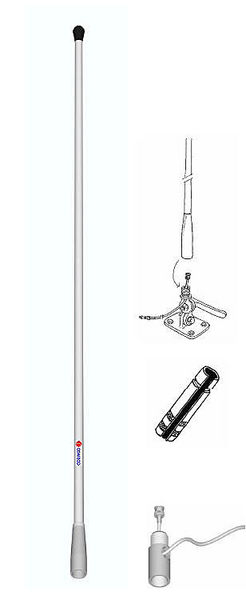 A VHF antenna is a necessary piece of on-board equipment for sending and receiving VHF radio signals.
Technologies
There are three principal VHF antenna types:

- Whip antennas, the most common, are typically mounted atop a sailboat's mast or on a powerboat's roll bar or hardtop. Their great length offers good performance.

- Short, helical antennas are often used on racing sailboats to limit top hamper. Performance cannot match that of whips, but is sufficient for normal VHF operation.

- Backup antennas ensure continued communications in case of demasting or damage to the whip. Mounted lower on the vessel, they have a shorter range.

With the addition of a duplexer, certain antennas can be used to receive FM or GSM signals, as well.
How to choose
Choice will depend on installation location, type of mounting hardware and cable length. The cable may or may not be supplied with the antenna. Too short a cable requires the use of an extension with coaxial connector, resulting in some signal loss. When sailing far offshore or in remote or dangerous areas, a backup antenna is a wise addition.

NB: Operating a VHF radio not connected to an antenna can result in permanent damage to the radio.