Twin engine boats
137 companies | 389 products
How to choose this product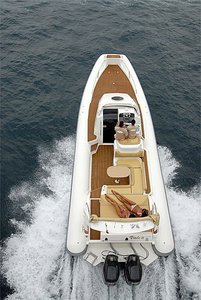 Bi-motorization is usually unsuitable on boats under six meters. The craft must be designed to support the weight of the two engines. Ideally, the two motors should be counter-rotating so that torque effects cancel out, making the vessel easier to steer at high speeds.
Applications
This configuration provides greater acceleration and higher top speed. It is often found on rigid inflatables.
Technologies
Side-by-side on the transom, the engines share a common steering system but feature independent controls via two levers designed specifically for twin-engine craft. Most have a single fuel tank, though separate tanks are safer in terms of avoiding breakdowns due to fuel contaminated by water or clogged filters.
How to choose
Manufacturers often indicate acceptable maximum power levels. Consider the weight of the motors. Different makes of the same power may vary in weight. If safety is of particular concern, consider a single motor with a smaller, auxiliary motor mounted on a bracket. This option is much cheaper, though less attractive.
Advantages
- More safety; less risk of breakdown
- Reduced engine wear
- Better maneuverability in tight quarters
- Counter-rotation cancels torque effect
Disadvantages
- Purchase and maintenance cost
- Higher fuel consumption
- Increased weight