How to choose this product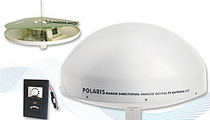 A TV marine antenna receives electromagnetic waves from television broadcasts and converts them to electrical energy, enabling television viewing.
Applications
These antennas are used to receive television broadcasts on board a vessel. Satellite TV transmission companies offer a variety of contracts including standard channels and encoded channels requiring a decoder.
Technologies
There are two main types of TV marine antenna. Omni-directional models are not oriented in a particular way, but are simply mounted on the deck. Directional types must be pointed toward the satellite whose signal they use.
How to choose
Some antennas can be installed easily by following the directions in the accompanying manual. Keep in mind that not all companies offer the same services or channels. Choice of antenna will depend on desired channels, possible need for a decoder and coverage in the area of use.
Advantages
- Little or no maintenance
Disadvantages
- Possible limited coverage