How to choose this product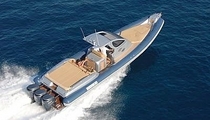 A triple-engine boat is one powered by three motors, usually outboards. NauticExpo offers rigid inflatables, inflatables and sport-fishing boats of this type, among others.
Applications
These boats can be used for fishing, pleasure boating, military operations and many other activities.
Technologies
The main characteristic of such craft is that they are powered by three independent motors working in unison, most often outboards. The port and starboard units are generally mounted slightly higher than the central motor to reduce propeller turbulence. The three usually have the same horsepower to ensure smooth, balanced propulsion.
How to choose
Choice will depend on vessel dimensions, displacement and type, such as rigid inflatable, T-top or inflatable.