How to choose this product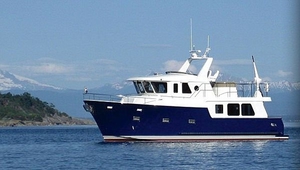 A trawler is a powerboat resembling a fishing trawler. Its seaworthiness and comfortable accommodations make it a true bluewater cruiser.
Applications
The comfortable accommodations made possible by significant freeboard and generous hull volume make these vessels ideal for long voyages. Their configuration allows for ample fuel capacity. Combined with reasonable cruising speed, this makes extended cruises possible.
Technologies
These vessels usually have displacement or semi-displacement hulls with lines reminiscent of fishing trawlers. This limits their cruising speed to around 10 knots. However, reduced speed constitutes an economy measure in an era of rising fuel prices, making trawlers well-suited to long-distance cruising. They are usually built of fiberglass laminates, composite sandwich materials, aluminum or wood.
How to choose
Boat length will determine passenger capacity and comfort. A sliding cursor at the upper right of the NauticExpo page can be used to set maximum and minimum length search parameters. The boatyard or architect can advise on choice of materials, engine, design and equipment.
Advantages
- Comfort
- Seaworthiness
Disadvantages
- Limited speed