How to choose this product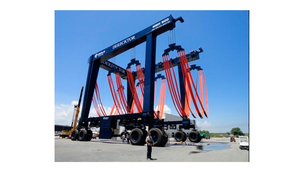 A travel lift is a piece of equipment in the form of a gantry for handling boats in port.
Applications
These devices can independently lift and move vessels ranging from the smallest recreational craft to the largest yacht or work boat. This makes them very useful in ports and marinas.
Technologies
The steel gantry supports a system of straps or cables running through block and tackle to lift the vessel. The travel lift carries the suspended vessel, moving on wheels or rails, for the largest models. Some have all-wheel drive and/or steering.

The operator sits in a cabin mounted on the structure or directs it remotely, for example via a wireless joystick. Some models are amphibious, capable of entering the water to launch or remove a boat. The most powerful can lift several thousand tons.
How to choose
Choice will depend on the type and weight of the vessels to be handled.