Travel lifts
How to choose this product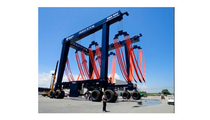 A travel lift is a piece of equipment in the form of a gantry for handling boats in port.
Applications
These devices can independently lift and move vessels ranging from the smallest recreational craft to the largest yacht or work boat. This makes them very useful in ports and marinas.
Technologies
The steel gantry supports a system of straps or cables running through block and tackle to lift the vessel. The travel lift carries the suspended vessel, moving on wheels or rails, for the largest models. Some have all-wheel drive and/or steering.

The operator sits in a cabin mounted on the structure or directs it remotely, for example via a wireless joystick. Some models are amphibious, capable of entering the water to launch or remove a boat. The most powerful can lift several thousand tons.
How to choose
Choice will depend on the type and weight of the vessels to be handled.
11
companies |
91
products (boats or nautical equipment)
40-T

Conolift
Standard Capacities and Features Capacity (weight) 30,000 lbs Standard Dimensions (can be adjusted to meet requirements) o Height Overall 22 6" o Clear Height 21'9" o Width Overall 22' 6" o ClearWidth(inside)16'6" o...
30 T / 60,000 lbs

Conolift
Capacity (weight) 60,000 lbs Standard Dimensions (can be adjusted to meet requirements) Height Overall 21' Clear Height 19' 9" Width Overall 22' 3" Clear Width (inside)...
Eden Technology s.r.l.
Eden Technology is an Italian company that design and produces SPECIAL machines for lifting and transporting boats, TAILOR MADE ON CUSTOMER NEEDS, up to 1800t capacity....
Amphibious
GHSA
GH automotive gantry crane on wheels, allow the movement of loads in all types of industries and applications with autonomy. They are known for their...
MAX. 90 TON

US Hoists Corporation
Travel lifts are synonymous with boat hauling and handling. They are invaluable assets in the care and safe transport of boats from the water to marina...
Filter by :
› New products

(0)

› Products with video

(46)
Refine the search
Travel lifts
Extend the search
Search by manufacturer
Search by catalog
Associated Terms
marine boat hoists, travellifts, boat hoists, mobile boat hoists, marine hoists