How to choose this product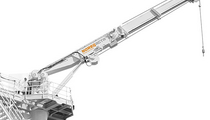 A telescopic crane is composed of a rotating tower on a base and a telescopic boom capable of lifting and lowering heavy loads.
Technologies
These cranes are characterized by a telescopic arm capable of reaching loads situated at a distance. The support platform is usually stationary. The crane tower rotates on bearings. The boom or arm is equipped with cables and hooks for load handling. Some models feature an elevated control post or cabin.