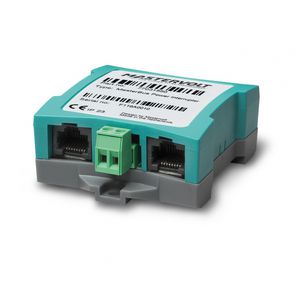 The MasterBus Power Interrupter switches off parts of the MasterBus network. This reduces the no-load consumption and is useful if a large system will not be used for an extended period. The MasterBus Power Interrupter ...

3-Way Panel Switch Similar to the Lighted Panel Switch but without indicator light or fuse holder. The "manual" position has a "fail-safe" spring return to "off" so you can't leave your pump running ...

... 50 mm (2") fluid level and deactivates at a 20 mm (3/4") fluid level. An eight second delay prevents false starts. ULTIMA switch is rated to handle all Johnson Pump submersible pumps pumps up to 20 amps at 12 or 24 ...

Toggle switch Fits panels up to V* in. thick when not using the back-up nut provided; fits panels up to Vie in. thick when using the back-up nut. Requires a V& in. mounting hole. Typical Applications :Lights, bilge ...
See the other products
Hubbell

Lighted toggle switch Built-in pilot light (R=red, G=green) for night vision. Same panel specs as 1.
See the other products
Hubbell

yacht switch
DSDBKX SERIES
In an industry first, the waterproof Digital System Switch features new Harken technology that sets the standard for the reliable operation of electrically-powered yacht systems. To accomplish this, ...

... Manual remote pump switch-on by button or remote control panel (optional). Signal for prolonged bilge pump switch on (if led or remote control panel is installed). Protection against excessive ...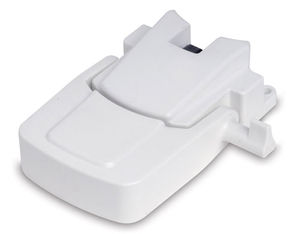 The SHURFLO® series float switches provide the ultimate in reliability for your boat. Complete line includes a standard automatic float switch and a caged automatic float switch.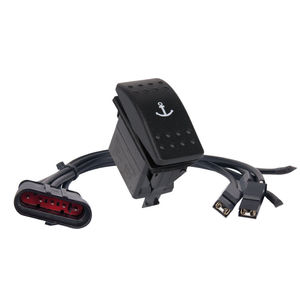 In case of little space this switch could be a good alternative to control your windlass. The switch is supplied with gasket and a connection cable set with pre-wired connectors. All connectors have ...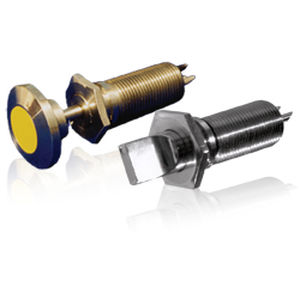 SEA CON® manufactures a variety of versatile and robust underwater switches to suit a number of applications. These include Limit, Positive Action and Proximity switches in a range of materials including ...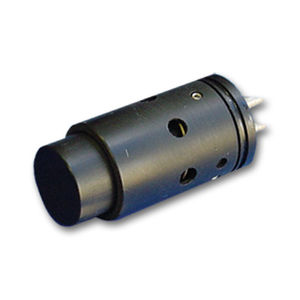 ... developed various forms of Switches. This Limit Switch is ideally suited for diver applications. Rated to 500 feet (152 meters), this durable switch fits nicely into a gloved hand. Originally ...

boat switch
CT1EX (12/24 V)
These switches are micro-controller based "intelligent" switches for operating one or two Exalto H.D. wiper motors. They provide all functions for a proper window cleaning. The switches ...
See the other products
Exalto

boat switch
CT2EX (12/24 V)
Discountcode: A Gross Weight: 0.17 Nett Weight: 0.16 Kind: Wiper controls CT2EX Description: Schakelaar 12/24 V bedraad tbv 2 wissers Brand: Exalto Unit: ST Category: Wipers Voltage DC: 12 / 24 V Max. current: 4 A Nr. of wipers: max. ...
See the other products
Exalto

... pumps require an additional relay or solenoid. NOFLO™ may be used with or without external pump control (pressure switch or on-off switch). Maximum water temperature is 240-degrees Farenheit.

... series of interior Touch switches allow easy, stylish touch operation for interiors of yachts and Recreational Vehicles. The switch area is gently illuminated at night for easy visibility of the switch ...

... non-mercury electronic bilge pump switch has no moving internal parts and is very easy to install. It incorporates a reliable control system which is activated only when the water is in the bilge. The Bilge Pump Switch ...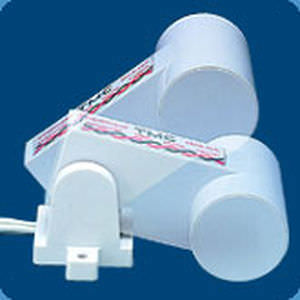 12V DC , FUSE 15A MAX PLASTIC HOUSING WHEN WATER LIFTS THE BUOY UP TO 2'' HIGH,THE SWITCH AUTOMATICALLY TURNS THE BILGE PUMP ON UNTIL THE WATER IS DRY.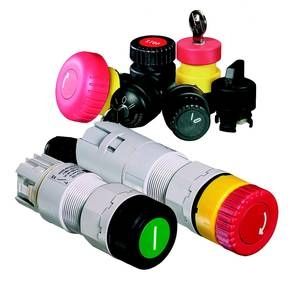 ... stay-put button mushroom stay-put button with key lock key-operated button key-operated switch selector switch 2 contact elements Spring cage terminal with connection ...
See the other products
R. STAHL Schaltgeräte

Switch function many switching arrangements (latching or spring-return) possible via coding easy change of the coding possible on site max. 2 pole For max. 6 A ...
See the other products
R. STAHL Schaltgeräte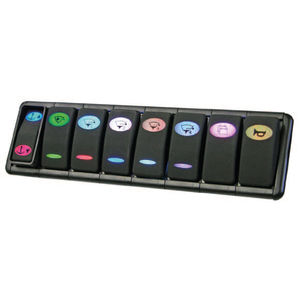 ... to create a switch output, which means no electrical contacts within the switch. The 428RSP provides interchangeable cams, including 1 & 2 position momentary, 2 & 3 position stationary, ...

boat switch
STV 10X SERIES
Power distribution switch panels in a build-up system for individual switching installations for ship's supply. Standard circuit breakers with a nominal power rating of 8A are fitted. Circuit breakers ...
See the other products
philippi elektrische systeme

10 power circuits with thermal circuit breakers (8 A), lamp diodes display, rocker switches. Dimensions W 110 x H 180 x D 70 mm
See the other products
philippi elektrische systeme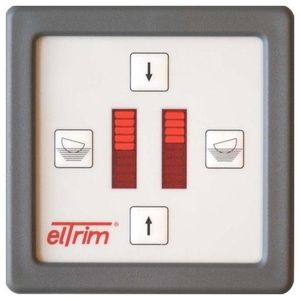 elTrim ST with position indication - standard solution - Operating of tabs is manual. - The top push-button moves both tabs down so the bow moves down. - The lower button will raise both tabs, so the bow moves up - Right button: ...

... indication - Budget solution to start with. - The position of the tabs is not visible. - You can move each tab by a separate switch. - Upgrade to other models automatic or ST is possible at any time.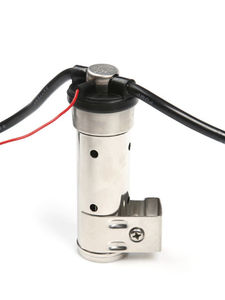 ... level rises to the top of the Pump Switch (80 mm from bottom), it will automatically start the pump, and keep the pump running until level is ca. 20 mm from bottom of the Pump Switch. Then the pump ...