How to choose this product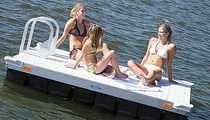 A swim platform is a floating structure anchored near the shore. NauticExpo offers a wide variety of floating platforms of different sizes and materials.
Applications
Such platforms are used by swimmers for workouts and enjoyment. They are installed near beaches and shorelines, especially those close to hotels and waterfront restaurants.
Technologies
These platforms are usually made of corrosion-resistant materials such as wood, plastic or aluminum. Design and dimensions vary greatly. Most have a ladder to facilitate climbing onto the platform, and some have a slide. They are anchored to the bottom with rope or chain attached to a mooring.
How to choose
Choice will depend on platform dimensions, the presence of ladders, slides and other equipment, and the buoyancy of the assemblage.