The Online Boating and Maritime Exhibition

inboard express cruiser
Artemis 43
Length: 13.85 m
A NEW LINE OF FAST YACHTS This innovative and stylish line boasts motor yachts ranging in size from 43 to 86 feet. The very first in the Artemis line of motor yachts features an open interior layout with two staterooms: a forward queen ...
See the other products
Selene

hydro-jet express cruiser
P42 EXPLORER
Length: 12.6 m
The P42 Explorer is designed for sport activities. The P42 Explorer is the ultimate week-end or holiday hub, where you can carry all your water sport toys with you on the trip. When you have found your favorite spot, the boat carries ...
See the other products
Hydrolift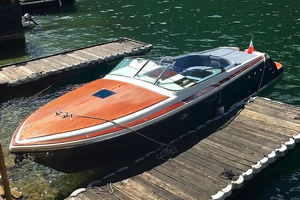 inboard express cruiser
Mahogany 34
Length: 10.5 m
Gasoline from 2 x 225 HP Diesel from 2 x 225 HP SPEED speed: 32 MPH / 28 Knots Maximum speed: 55 MPH / 48 Knots MAIN SIZES AND TECHNICAL DATA Hull type: Monohedric with bottom spray rails Lenght overall: 10.50 m (11 m) Beam: ...
See the other products
Comitti Yachts

inboard express cruiser
35
Length: 10.67 m
... layout. With the twin cabin layout, the Duchy 35 is a comfortable family cruiser. With a single cabin layout, she is a luxury day boat for up to ten people and a weekend cruiser for a couple. You can ...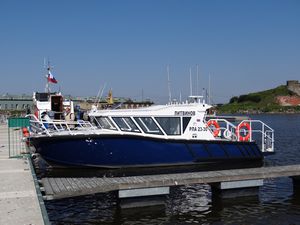 inboard express cruiser
Solo 900
Length: 9.8 m
Comfortable and reliable all-welded aluminum cabin planing boat is ideal for long trips, fishing, recreation with family, as well as for performing a wide range of professional tasks. The boat provides everything to make your trip comfortable, ...
See the other products
TRIDENT Aluminium Boats

outboard express cruiser
EVO CC
Length: 13.04 m
At 13 meters in length (43 feet) and over 4 meters wide, Evo Center Console is without doubt inspired by the previous models. It is consistent with the brand's stylistic features and family feeling, a boat that is fast, sporty, functional ...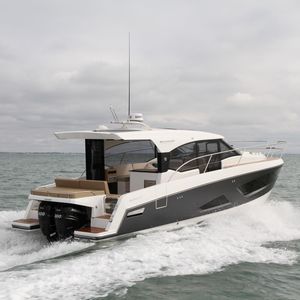 outboard express cruiser
MONACO 110
Length: 11.2 m
... boats from PARKER Boats in collaboration with Tony Castro Design. This design combines the spacious layout of a cruiser with the latest outboard designs. These outboards are now very efficient and great value-for-money ...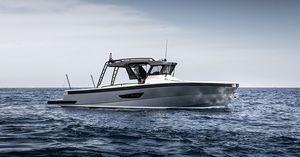 sterndrive express cruiser
BG42
Length: 12.98 m
It is the entry gate to the Bluegame range of Sport Utility Yachts. Despite her size, in only 12.98 meters (42'5") Bluegame 42 is able to concentrate all the features of the range. The central part of the stern platform is lowering to ...

Length: 11.8 m
... real custom boat and a unique, personal image outside. C•TENDER is equipped with a modern and truly accurate design base, express high performance, low consumption and marine knowledge, that are able to satisfy even ...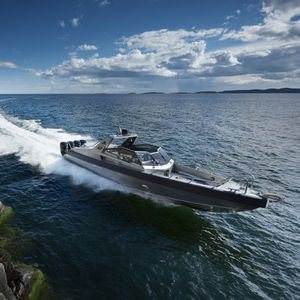 outboard express cruiser
1221 SPD
Length: 11.7 m
The Anytec 1221 SPD attracts attention everywhere you go. Twelve metres long. Four engines. 1600 horsepower. All these elements interact to give you the power, the commanding presence, the no-compromise design required to provide world-class ...

inboard express cruiser
405
Length: 13.33 m
The Nimbus 405 Flybridge made her premiere appearance at the Stockholm Boat Show "Allt för Sjön" on the 28th of February. The new model is based on the 405 Coupé flagship with "sidewalk". The 405 Flybridge is a Nimbus Coupé model built ...
See the other products
Nimbus

inboard express cruiser
ANDANTE 438 OC
Length: 13.15 m
The Andante has a flat bottomed stern and a knife sharp bow that cuts through the water, and takes little water on board. Extra chine ridges in the hull give more stability and less wave formation. Even at high speed the Andante glides ...
See the other products
Aquanaut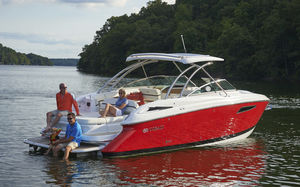 inboard express cruiser
R35
Length: 10.59 m
The largest boat in the R Series, the R35 is a hybrid open-bow day boat designed with the leathered luxury of a well-appointed mid-cabin and the unmatched performance you expect from a Cobalt. Simultaneously snug and expansive, the cabin ...
See the other products
Cobalt Boats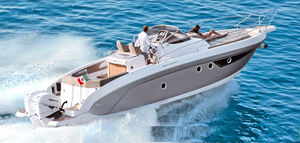 outboard express cruiser
NEXT 370 SH
Length: 11.5 m
Standard accessories COCKPIT- HULL Anchor and chain Bow, mid-ships and stern cleats Stainless steel stern gate Chain safety cable Stainless steel anchor plate Waterproof and anti-UV external cushions Bowsprit with teak L shape ...
See the other products
Ranieri

inboard express cruiser
290EX
Length: 9.7 m
In a league of its own, the 290EX serves as a stylish yet ergonomically designed cruiser capable of sleeping four comfortably in a modern, value-packed cabin, bringing the comforts of home with you—both above and below ...
See the other products
Rinker

inboard express cruiser
1100 SEDAN
Length: 10.86 m
Lengte over all:ca. 10.86 m / 36 ft Beam:ca. 3.60 m Draft:ca. 1.08 m Creep height:ca. 2.70 m Engine:1 x 75 HP CE-classifictation:C/B Top speed:ca. 8 kn Cruising speed:ca. 6 kn
See the other products
Jachtwerf De Boarnstream

inboard express cruiser
RC10
Length: 10 m
... automobiles achievements of the last twenty years, Donato Coco has signed for you an exceptional cruiser., Coupé or with flybridge The power of a sea-going sport cruiser: Double shaftdriven inboard ...

inboard express cruiser
325 SCR
Length: 9.88 m
The Crownline 325 SCR Sport Cruiser is not your grandpa's cruiser! Step back and check out the rakish lines on this boat, how the stainless steel windshield header wraps around to compliment the sporty ...
See the other products
Crownline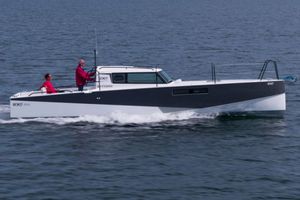 inboard express cruiser
Loxo 32
Length: 9.5 m
Loxo 32 is the new generation of cruising motor boat. Based on cutting edge building technology. Her displacement is ultra light, allowing an hybrid hull design with ultra early planning that needs minimum propulsion power. Optimized ...

IPS POD express cruiser
36
Length: 9.94 m
"Attractive, easy to pilot and agile, the Austin Parker 36 delivers all the pleasure of comfortable sailing even in the pleasure craft category. On board, it offers comfortable accommodation and lots of space for its size thanks to ...

inboard express cruiser
Laver 38 X
Length: 11.95 m
LOA Length Overall 11,95 mt EC Certifying length 9,95 mt Max width 3,85 mt Maximum height 3,75 mt Immersion height 0,90 mt Displacement unladen 7.250 Kg Displacement fully laden 9.250 Kg Fuel capacity 2 x 350 lt Water capacity 250 lt Engines 2 ...

inboard express cruiser
43 TL
Length: 14.97 m
Charming and classic lines of the open yacht for living a life of complete freedom, following Rizzardi's tradition. Unladen displacement 14.50 t 31967 lbs Draft under propeller (boat fully laden) 1.25 m 4 ft 1.2 in Fuel ...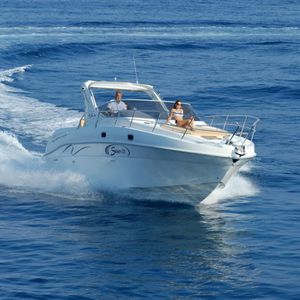 inboard express cruiser
330
Length: 10.2 m
It's the current flagship of our production. It is a sport version, which is perfectly suited to the needs of those who prefer the open area of piloting, with the possibility of maximum use of outdoor spaces. The water lines are studied ...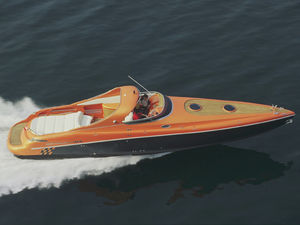 inboard express cruiser
12.90 RS
Length: 12.9 m
See the other products
Albatro International Srl

inboard express cruiser
32'
Length: 9.75 m
Designed for speed, stability. exceptional rough water handling, and good looks, Newton Boats 32' Sport Fish is in a class by itself. Built of only the finest materials and to A.B.S. specifications, this vessel will bring you years of ...