Submersible bilge pumps
How to choose this product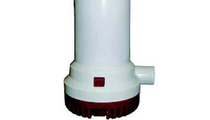 A submersible bilge pump removes water from a vessel's bilge. NauticExpo offers a wide variety including electric, manual, automatic and other models.
Applications
These devices are used on relatively small vessels. Those offered by NauticExpl are not suitable for ships or large boats.
Technologies
The submersible bilge pump is a type of positive-displacement pump. Since bilge water may contain fuel residue, electric submersible bilge pumps are specially designed to operate without producing sparks.
How to choose
Choice will depend primarily on the pump's capacity.
Advantages
- Easy to install
- High flow rate
Disadvantages
- Limited life span
12 companies | 32 products (boat or nautical equipment)
2 products Whale Pumps
Boat electric
SUPERSUB

Whale Pumps
Narrow, "Low" profile electric bilge pump range, for confined bilge spaces The narrow low profile compact bilge pump range Supersub Family- Narrow,...
1 products Eval
Boat electric
03933-5

Eval
Bilge Pumps EVAL 500-700 The bilge pumps EVAL are constructed of shock resistant, high quality ABS plastic, they are extremely durable, suitable for extended use and...
1 products TF Marine
Boat electric
SERIES SUB

TF Marine
These submersible el/pump are ideal for grey water or liquids with limited parts. SUB el/pumps are the best answer when you need a bilge...
1 products YCH Ind. Corp.
Filter by :
› New products

(1)

› Products with video

(1)
Extend the search
Search by manufacturer
Search by catalog
Associated Terms
bilge submersible pumps