How to choose this product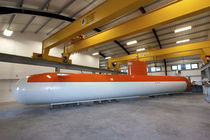 A submarine is a vessel capable of sailing on the surface, as well as hundreds of meters beneath the sea. Submarines vary from large military types to vessels carrying one or two crew. NauticExpo classifies submarines by maximum working depth: <100 meters, <200 meters, etc.
Applications
Submarines are used for direct examination of the undersea realm, including the seabed, for purposes of scientific research, archaeological excavations and tourism.
Technologies
Submarines use water ballast tanks to submerge and to return to the surface. Small submarines usually use electric motors, but other propulsion systems exist, as well.
How to choose
Choice will depend primarily on intended use and maximum working depth. The possibility of fitting the submarine with mechanical arms or other equipment for performing specific tasks also should be considered.