How to choose this product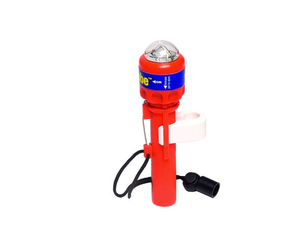 A rescue strobe light is a safety device that emits light flashes at regular intervals, for example when a crew member falls overboard.
Applications
While most such lights are designed to be attached to a life jacket, some have arm straps, and can be worn independently of the jacket. NauticExpo offers a range of rescue strobes.
Technologies
These completely watertight devices are powered by alkaline or lithium batteries. Activation can be manual or automatic. An incandescent or halogen bulb emits powerful flashes at regular intervals, visible beyond two nautical miles. Strobes designed for commercial ships and ocean liners must be SOLAS-certified.
How to choose
Lithium batteries last longer than alkaline models, up to eight continuous hours. After the expiration date on the light, it must be refurbished or replaced. Automatic activation by contact with salt and fresh water offers additional safety.