How to choose this product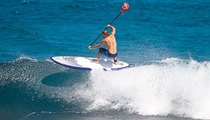 A stand-up paddleboard is propelled by a standing rider using single paddle. At three to five meters, this longest of all surfboards can be used to ride even the smallest non-breaking waves. This should not be confused with the paddelboard, propelled by a prone or kneeling rider's arms.
Applications
While their use originated in the world of surfing, paddleboards are increasingly employed for a good workout in the fresh air on flat water.
Technologies
For reasons of stability, SUP boards are generally quite long and relatively wide. The upper side is generally covered by an anti-slip surface.

Rocker (board curvature) depends on type of paddling -- flatwater boards have almost no rocker, whereas whitewater boards are heavily rockered. Some models are equipped with one or several fins.

Most SUP boards are made of composite materials. Heavier but much stronger polypropylene and wood models are available.

Inflatable models are perfect for car- and plane-transportation. Some SUPs can easily be turned into windsurfs. Kayak-like Sit-On-Top (SOT) models are also available.
How to choose
The wide selection of boards includes high-tech composite models, rugged beginners' versions made of thermoform plastic and beautiful wooden boards for traditionalists.

Specify sex, age, weight and height, as well as type of paddling (waves, flatwater, racing, etc.).
Advantages
- Easy surfing
- Suitable for excursions
Disadvantages
- Heavy
- Limited maneuverability