How to choose this product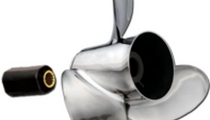 A stainless steel propeller converts the engine's rotational motion to thrust, its airfoil-shaped blades pushing the boat forward.
Applications
These propellers are found on all types of vessel, including those using sterndrive, a propeller shaft, Z-drive, saildrive, hydrojet or another propulsion system.
Technologies
Stainless propellers can have two, three or four blades, depending on the power transmission system and the engine's output. Variable-pitch models have blades whose angle of attack can be adjusted, either upon installation or during use. Altering pitch depending on engine speed guarantees greater fuel efficiency. Folding propellers reduce drag when under sail.
How to choose
Choice will depend on boat type, displacement, engine make and model, and power transmission system.