How to choose this product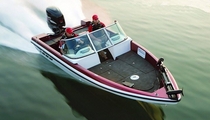 Sport-fishing runabouts are small-sized motor-boats, with low freeboard and an open deck. They can be used for fishing and for water-sports.
Applications
Such crafts have powerful engines and can access fishing areas (in fresh- or salt-water) at great speeds.

They are relatively polyvalent, can tow water-skiers or wake-boarders, be used for coastal cruising, or for sunbathing.
Technologies
Runabouts can be made of composite fibers (generally laminated polyester or fiberglass). Aluminum is often used; its resistance to impacts makes it ideal for cruising in shallow waters.

The motor can be in-board or out-board, the latter solution freeing enough space inside the hull to store tackle and sports equipment.

Some runabouts feature a small cabin, sometimes with a toilet, allowing users to remain on board overnight.
How to choose
The length of the craft will determine the maximum number of occupants, the possibility of creating a cabin, and the possibility of trailing the boat. A bar menu on the upper right-hand side of this page will help you browse models of different lengths.

Powerful motorization increases the range of sports and fishing activities, but entails increased fuel consumption.
Advantages
- Fishing/water-sports polyvalence
- Maneuverability
- Little maintenance required
Disadvantages
- Few amenities
- Often noisy (out-board)