How to choose this product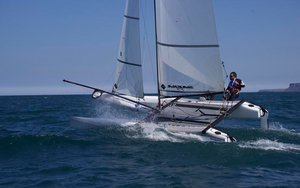 A sport catamaran is a light, fast twin-hulled sailboat without a cabin, designed for one to three persons.
Applications
These boats are for leisure or competition sailing. They also can be used for coastal racing, since beaching is easy and the trampoline is an ideal place to pitch a tent. Water sports centers sometimes have a fleet of rental cats.
Technologies
The two identical hulls are joined by arms. The hulls can be of polyester, polypropylene, carbon or even inflatable plastic. The mast, stepped on the forward arm, sometimes carries only a mainsail, though jib and spinnaker, generally asymmetrical, are optional additions. Twin rudders are linked by a steering rack. The catamaran has one or more trapezes for hiking out.
How to choose
Choice will depend on crew capacity and intended use including leisure, regatta and coastal racing. The many models range from 12-foot single-handers to 22-footers for two or three people. The larger the catamaran, the more powerful. Inflatable cats are easy to transport, but cannot match the performance of the others. All can be trailered. Common standard models offer the possibility of participating in class regattas.