How to choose this product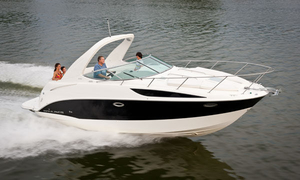 A sport cabin cruiser is a medium-sized powerboat featuring one or several cabins. Its engine is powerful enough for high-speed cruising and towing sports. On NauticExpo, these craft have a maximum length of 9.5 meters.
Applications
These are multipurpose vessels. Perfect for cruising, they feature comfortable interior amenities. They are also suitable for fishing, water sports and relaxing at anchor.
Technologies
A great majority of such boats are made of fiberglass, either polyester or epoxy. They offer one or more cabins, up to six berths, a head and a galley. Engines are generally diesel or hybrid inboards, though outboards are sometimes used to save space. A swim platform, often situated aft, provides easy access to the sea. While most are open, some have a covered helm or cockpit, or a removable Bimini top.
How to choose
A boat length scale with sliding cursor at the upper right of the NauticExpo page can be used to narrow your search. The number of cabins will determine passenger capacity, especially for overnight cruising. Powerful engines offer a thrilling ride and the possibility of engaging in towing sports, but consume a lot of fuel.
Advantages
- Flexible use
- Moderate maintenance and expense
Disadvantages
- Small size can limit comfort
- Noisy
- Significant fuel consumption