How to choose this product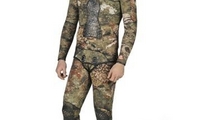 A spearfishing wetsuit is designed to protect a diver's body against cold, impacts, bites or abrasion resulting from contact with rocks, coral or animals.
Applications
These garments are recommended for submarine hunting in cold water and for diving on sites with rocky or broken bottom terrain.
Technologies
Wetsuits are typically made of neoprene, which is flexible and offers excellent thermal protection. They are not watertight. The thin layer of water that seeps in is heated by diver's body and remains at a comfortable temperature. There are several types of patented neoprene. In some wetsuits, the neoprene is covered by another material inside and/or out. The outer layer is usually smooth for optimum insulation and hydrodynamics.

Stress points are often reinforced. Thickness generally ranges from less than two to about seven millimeters, depending on desired thermal protection and flexibility. There are both one-piece and two-piece versions. Certain models are camouflaged to resemble seabed colors and forms to avoid detection by prey. Watertight drysuits are often used in especially cold waters.
How to choose
Two-piece wetsuits offer the option of using only one part in warm waters. Proper size, usually from S to XXXL, is important for comfort and warmth.