How to choose this product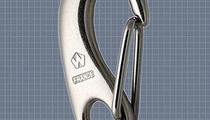 A snap shackle is a metal ring-shaped fitting which is easy to open. The complexity and security of the mechanism vary among the different models.
Applications
These devices are used on board to attach two or more pieces of gear rapidly. They are often found on spinnaker sheets, as well as at the end of safety harness lines. They are also used to hank headsails to their stay in the absence of a roller furling system.
Technologies
In addition to standard models, there are those with a screw closure or spring-loaded safety pin for harness lines, and rapid-release versions for use on sheets.
How to choose
Choice of snap shackle will depend on its intended use, opening mechanism and the load it will carry. Manufacturer's block and fittings catalogs provide formulas for calculating load for various tackle and sheets. Swivel models are indispensable for spinnaker halyards.