How to choose this product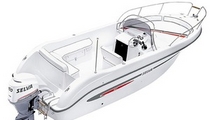 Open-hulled craft feature an open deck, most of which is on the same level. The lateral console houses the helm, instrumentation and sometimes a windshield to protect the driver from wind and spray.
Applications
These vessels are the metal or fiberglass equivalent of rigid inflatables. Ideal for recreational use, they also make for excellent work boats.
Technologies
The substantial freeboard of these craft makes for safe, easy movement around the boat. The side console affords ample room for going fore and aft. Most are powered by outboard motors.
How to choose
The many manufacturers in this category provide a wide choice of deck layout and power plant, facilitating the choice of the model best suited to your particular needs.
Advantages
- Choice of motor
- Open, convivial configuration
- Can be trailered
Disadvantages
- Stowage sometimes limited