How to choose this product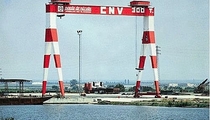 A shipyard crane is designed to lift, lower and move heavy loads. Most are gantry cranes, but NauticExpo also offers tower and overhead traveling types.
Applications
Shipyard cranes handle many different kinds of load, including heavy ship parts and hull sections.
Technologies
The design and configuration of gantry, semi-gantry and overhead shipyard cranes are different than those of other types. Gantry cranes comprise one or more beams supported by the crane's legs. The lifting mechanism consists of block and tackle, and can move back and forth along the beam. The legs straddle the dock and move along tracks.
How to choose
Choice will depend on the type of load to be handled and the crane's lifting capacity. Duty class and duty cycle rating, measured in lifts per hour, also should be considered.
Advantages
- Great load capacity