How to choose this product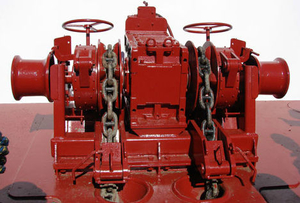 A ships windlass is a mechanical device powered by an electric, hydraulic or diesel motor. It has one or two wildcats, or chainwheels, the notched wheel that holds the anchor chain. Some have drums, or warping heads for mooring or anchor lines. Those offered on NauticExpo are intended for use on commercial ships rather than recreational vessels.
Applications
Such devices are suitable for use aboard all commercial ships and work boats. Models exist for all chain diameters.
Technologies
The motor driving the wildcat can be electric, hydraulic or diesel. The vessel's anchor chains must fit perfectly within the wildcat's notches. A windlass may have one or two wildcats, or chainwheels, and one or two drums, or warping heads for taking up and tensioning lines and cables. The wildcat axis can be horizontal or vertical, the latter usually called a capstan rather than a windlass.
How to choose
Choice of a vertical or horizontal axis will depend on the anchor chain's path between the hawse hole and the chain locker, and available space on and below the deck. Other factors include anchor chain diameter, the vessel's laden and unladen displacement and the number of anchors and lines.

Windlasses aboard ships subject to the terms of maritime conventions or the regulations of classification organizations must meet certain standards and be certified.