The Online Boating and Maritime Exhibition

food waste treatment system
UCVC-40/190
... normal waste sucked into the system, even small amounts of water. For use in the galley, an extra pre-separator can be installed. The cleaner has a self-cleaning filter system for easy operation and ...

... the Cathelco BWT system is currently being tested to the 'live/dead' standard demanded by the U.S. Coast Guard with the aim of gaining Type Approval by the 3rd Qtr of 2017. The Evolution system will ...

fresh water treatment system
... suitable alkali. No untreated process water is pumped overboard during operation. No dilution, no tricks. Just a unique water treatment process to handle the process water. More than 90% of the process residuals are extracted ...
See the other products
Langh Tech Oy Ab

ballast water treatment
BWMS 100 m3/h
... Skid footprint: 1200 mm x 800 mm (L x B) - Total height: 2600 mm - Skid can be tailor made to meet special requirements - System can be installed in separate components, especially relevant for retrofit
See the other products
ABIOTEC

wastewater treatment system
BLUE SEA
The BLUE SEA system is a new-generation waste water purifier capable of treating from 2500 to 22000 litres a day. This completely automatic, technologically advanced system is equipped with a special ...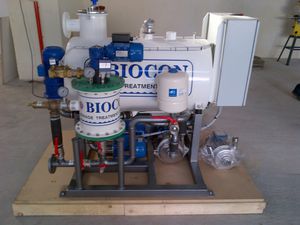 wastewater treatment system
BIOCON
... of section 4.2 (special areas) BIOCON systems have been approved by DNV (Det Norske Veritas) and tested according to IMO and found to satisfy all specifications well below all relative limits. BIOCON systems ...
See the other products
Techni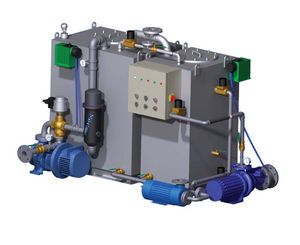 wastewater treatment system
TRITON μ
TRITON μ is a physicochemical sewage treatment plant especially designed for treatment of both black (or mixture of black and grey water), onboard merchant ships, yachts and cruise vessels. ...

Lindenberg-Anlagen GmbH has several decades of international experience in engineering of fuel treatment systems for mineral heavy oils and crude oils.

ballast water treatment
150 m3/h
Installation Flexibility By combining the two treatment technologies into a single unit, we eliminate the need for additional connecting pipe, pipe elbows and valving connections. And because our drivers are connected ...
See the other products
TROJAN MARINEX

ballast water treatment
GloEn-Patrol™
GloEn-Patrol™ is a combined treatment system taking advantage of Filtration and UV irradiation, the most environmentally friendly and optimally designed solution for every kind of vessel ...
See the other products
Panasia Co. Ltd

ballast water treatment
FIT
ERMA FIRST BWTS FIT is an advanced modular system that was developed to exceed all the special installation requirements either for New Building vessels or especially any retrofit project. Covering an ...
See the other products
ERMA FIRST ESK ENGINEERING SOLUTIONS SA

wastewater treatment system
DVZ-JZR-"BIOMASTER"
Sewage Treatment Plant DVZ - JZR "BIOMASTER"® built in accordance to highest Offshore Standards
See the other products
DVZ-Group

ballast water treatment
BWMS
... requirements, any member states' vessels with international navigation certificate---newly built ships and operational ships should be equipped with ballast water management ...

ballast water treatment
OCEANGUARD™ BWMS
... Management System (BWMS) High sterilization efficiency Compiled to Highest Requirement IMO D-2 Regulation, Califonia Requirement and USCG Standard. Single way treatment Single way treatment, ...
See the other products
ENWA Sandnes

... Water at those bunker stations cannot be relied on for consumption and therefore After Treatment is required. We give you some examples for situations where After Treatment is required: When bunkering ...

fuel treatment system
150 GPH
Description: Marine version of the Fuel Polishing System 150 GPH Series with Separ Filter. Usually ships within 2 weeks. Features : Recommended for 300-500 gallons of diesel fuel (can vary depending ...
See the other products
Reverso

Model : DHTM Dikomarine Fresh Water Systems are specially designed towards the needs and requirements of marine industry. Each unit consists of all necessary equipments for fresh cold and hot water supply, ...
See the other products
Diko Electrical Equipments

oil treatment system
MAX. 70°C
Type Depth filter with removable recoverable elements Working pressure max 70°C
See the other products
Vineta Ltd.

waste treatment system
MODEL MPC-10
... comply with OSHA . Compacts all types of waste Options: . HEPA Filter System (dust to nuclear) . Fire Suppression System . Drip Pan . Explosion Proof Electric or Air Over Hydraulic System . Load Door
See the other products
Tech Oil Products

wastewater treatment system
OCS-COMPACT
The OCS- COMPACT treatment system is a membrane-based, biological treatment plant. Designated and designed for installation and operation on ships. It is type-tested ...

wastewater treatment system
BIOLOGICAL
Compact solutions for black and grey water treatment. Will perform satisfactorily with waste collected either by vacuum or gravity No risk of odour emissions or methane production due to aerobic process Containerized ...
See the other products
DETEGASA

Vertical and Horizontal Indoor Air Handler 1,800 to 15,000 CFM 39L Air Handler Carrier's AERO 39L series air handlers are compact and fully assembled. They combine versatility with ...
See the other products
Carrier Marine & Offshore Systems

wastewater treatment system
HMX®
... 159. These systems are recommended for US Flagged vessels over 65 feet long. These systems provide automated state of the art processing of onboard sewage. Designed for quick starts and ...

fuel treatment system
AFS series
Njord automatic Fuel Filtration Systems are recommended for use in Continuous Power, Emergency Power and Home Based Tank setups at for instance mining sites, transportation and other industrial companies. Each fuel ...
See the other products
Njord Filtration

A wide variety of units are available for ship and offshore use. Pressure vessels, circulation pumps and other equipment can be provided separately or as complete, ready-mounted unit with control cabinet piping and valves. ...